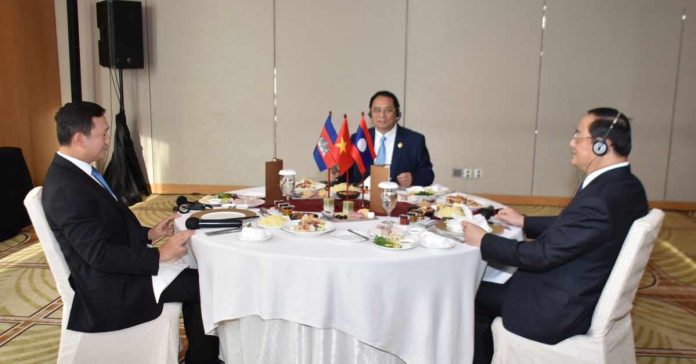 Prime Minister Sonexay Siphandone met with Vietnamese Prime Minister Pham Minh Chinh and Cambodian Prime Minister Hun Manet for a working breakfast on Tuesday, 5 September, while attending the 43rd ASEAN Summit and related meetings in Jakarta.
During their interaction, the three leaders shared information about the economic and social development of their countries and discussed areas of common cooperation and regional and international issues of interest.
The three leaders agreed to work together in a number of areas, including national defense and security, economics and trade, and investment, particularly in supporting each other in regional and international frameworks, such as the ASEAN Cooperation Framework and the Mekong River Commission (MRC).
Additionally, the leaders also agreed to promote educational exchanges by providing financial support for students to study in each other's countries and learn about their cultures and languages, to boost future relations between the three nations.
The leaders also agreed to continue implementing agreements and conventions, hold regular joint mechanism meetings, and research ways to facilitate trilateral trade among the three countries.
On this occasion, PM Sonexay and PM Pham Minh Chinh took the opportunity to congratulate Cambodia on the success of its election, the overwhelming victory of the Cambodian People's Party, and the election of Hun Manet as the new Prime Minister.
PM Sonexay also invited PM Hun Manet to visit Laos in the future and expressed hope for future support and cooperation from Vietnam and Cambodia during Laos' ASEAN Chairmanship in 2024.