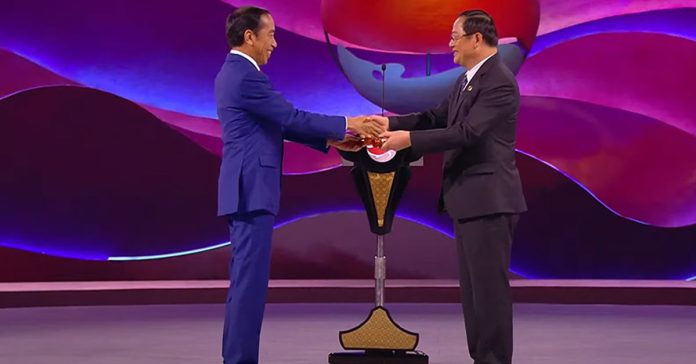 During a handover ceremony at the closing of the 43rd ASEAN Summit in Jakarta, Indonesia, Laos took over the chairmanship of the Association of Southeast Asian Nations (ASEAN) from Indonesia on Thursday, 7 September.
During the ceremony, Lao Prime Minister Sonexay Siphandone received the gavel of ASEAN Chairmanship from Indonesian President Joko Widodo and pledged to build a more connected and resilient ASEAN during the country's chairmanship in 2024.
PM Sonexay expressed his sincere congratulations to the Indonesian President as well as the Indonesian government and people on the successful hosting of the 43rd ASEAN Summit and related summits and said that Laos is prepared to cooperate closely with other ASEAN members and partners to ensure the success of its chairmanship.
"Laos is honored to assume the ASEAN Chairmanship in 2024," PM Sonexay said. "We will build upon the achievements made under Indonesia's ASEAN Chairmanship and the success of ASEAN over the past years."
Under the theme "Enhancing Connectivity and Resilience", PM Sonexay affirmed that Laos will continue to work together with other ASEAN member countries to strengthen the ASEAN community and create opportunities to address geopolitical and geo-economic challenges and changes.
Additionally, PM Sonexay said that Laos will work to expand ASEAN's external relations, strengthen ASEAN's centrality and unity, and develop a regional architecture for stability, peace, and development in the ASEAN region during its chairmanship.
"We will continue to enhance connectivities, narrow the development gaps (among ASEAN countries), promote carbon neutrality, and advance digital transformation in the region and economic integration," Sonexay added.
Although the chairmanship was symbolically transferred, Indonesia will continue to carry out chairmanship responsibilities until Laos officially takes over early next year.
Laos will assume the chairmanship of ASEAN in 2024, followed by Malaysia in 2025. The Philippines will take over the chairmanship in 2026 instead of Myanmar, which is currently in political turmoil.
The ASEAN leaders agreed that the chairmanship rotation after the Philippines will follow the alphabetical order of member countries' names unless otherwise decided.