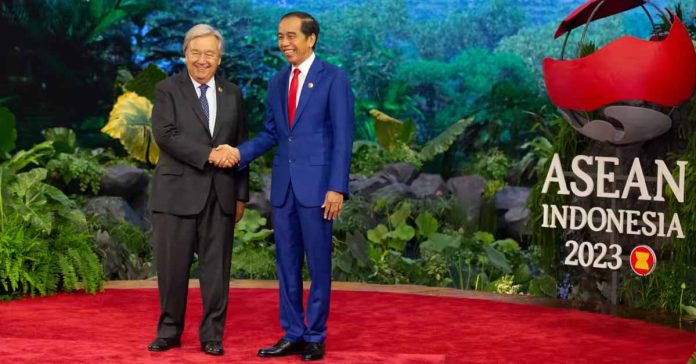 In a press conference held in Jakarta on Thursday, UN Secretary-General Antonio Guterres emphasized the urgent need for a robust debt workout mechanism to facilitate global climate financing, citing challenges faced by energy transition initiatives in Indonesia and Vietnam as prime examples of the critical need for action.
Guterres praised the innovative Just Energy Transition Partnerships (JETP) that allowed Indonesia and Vietnam, both members of the Association of Southeast Asian Nations (ASEAN), to secure pledges from developed countries and international financial institutions.
The primary objective of these pledges was to help Indonesia and Vietnam shift from coal to cleaner energy sources. Speaking in Jakarta before an ASEAN leaders' gathering, Guterres emphasized that ASEAN nations, facing increased climate change risks, can play a vital role in promoting global climate justice.
Indonesia secured a USD 20 billion JETP agreement in November 2022, while Vietnam reached a USD 15.5 billion deal the following month. South Africa has also received a JETP commitment, marking a significant step forward in climate financing. A similar scheme is under discussion for India as well.
Despite the recognition and praise, the promised funds have not yet been handed out due to disagreements among negotiators regarding which projects should get the money, whether it should come from private or public sources, and what the interest rates should be. Guterres stressed the importance of aiming higher and providing more resources to developing countries.
"We need to establish also an effective debt workout mechanism to support payment suspension, longer lending terms, and lower rates to the so many developing countries that are strangled with the debt," said Guterres.
The UN Secretary-General also called for significant changes to the way global finance schemes are operated. He stressed the importance of ensuring the global financial system reflects today's economic and political conditions and is more helpful to developing countries.
Finally, Guterres urged the Group of 20 industrial and emerging economies, which includes major polluters, to join a Climate Solidarity Pact. He made this request ahead of the G20 Summit happening in New Delhi this weekend.
He stressed the desperate need for greater international cooperation and proposed an "acceleration agenda" to intensify global efforts to combat climate change. Guterres cited the alarming statistic that the June to August period had officially become the hottest three-month period on record, underlining the urgency of the climate crisis.