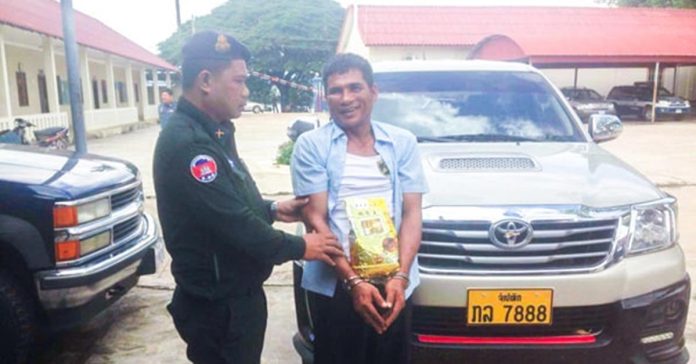 Sophavan Soengnovvan, a 55-year-old Lao farmer who was jailed for life and fined KHR 40 million (approximately USD 9,600) by the Stung Treng Provincial Court in late October 2017, pleaded on Thursday with the Phnom Penh Appeal Court to have his life sentence reduced.

Sophavan, a resident of Moeung Khong district in Champasack province, admitted to possessing more than two kilograms of methamphetamine when he was arrested in 2016 at the Cambodian-Lao border in Stung Treng province, Khmer Times reported.
At his appeal hearing, Sophavan admitted to the charges against him, saying that he had bought the drugs from an unidentified man in Laos and was planning to sell them to a Cambodian resident in the Thala Barivat district of Stung Treng province.
However, Sophavan appealed the life sentence imposed by the Stung Treng Provincial Court, arguing that it was too severe and requested a reduced jail term.
Presiding Judge Plong Samnang said that Sophavan was found guilty of drug trafficking under Article 40 of Cambodia's Law on Drugs Control.
According to Judge Plong, Sophavan was arrested by provincial military police in Russei Srok village, Thala Barivat district, Stung Treng province, in early August 2016 while he was driving a Toyota Hilux Vigo pickup truck that contained two packages of methamphetamine weighing 2.18 kilograms.
Judge Plong has scheduled 21 September as the date for announcing the verdict on Sophavan's appeal for clemency.