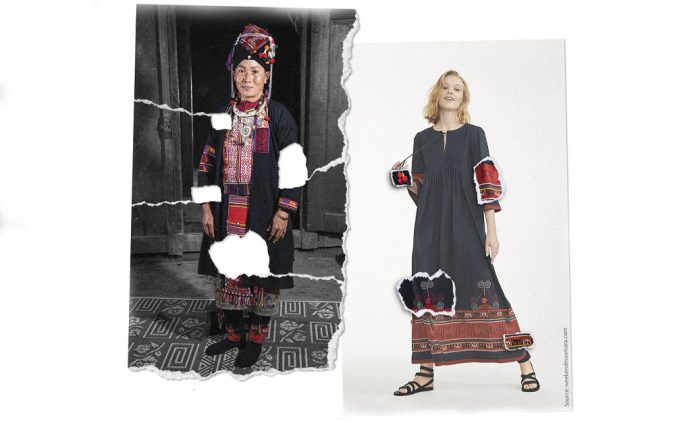 The Traditional Arts and Ethnology Centre (TAEC) in Laos will be showcasing a new exhibition from 26 September in Luang Prabang, highlighting the issue of renowned designers "claiming inspiration" from ethnic artisans.
Previously, the Laotian Times reported on this issue in 2019, when an Italian-born private fashion chain, Max Mara, was accused of pilfering the property of the Oma people, an ethnic group who reside in the mountainous north and north-east of South East Asia's multiethnic Laos.
Four years later, TAEC decided to set up a thought-provoking exhibition to highlight the ongoing severity and scope of the situation, which has traditional designs from ethnic communities blatantly lifted by fashion houses without crediting or compensating them for the same.  
"We curated this exhibition to highlight a complex issue that is becoming more and more common – the misappropriation of traditional designs by fashion brands and companies who commercialize and profit off traditional knowledge without consent or compensation," Tara Gujadhur, Co-Founder and Co-Director of the TAEC told the Laotian Times during an interview.
However, this issue is not just limited to Laos alone. Traditional designs from communities in Africa, Latin America, and Europe have also had their designs plagiarized for the benefit of global chain companies.
At its core, the issue is about preserving and crediting the owners of such cultures and traditions which have been passed down through generations. It is the identity of those ethnicities, and fashion brands bear a responsibility to do more in terms of spotlighting their work.
Tara says that one potential solution lies in the adoption of the Cultural Intellectual Property Rights Initiative ® , also known as the 3Cs – Consent, Credit, and Compensation. She explains, "Fashion houses can make a better effort to perform due diligence – research the textiles and designs they're inspired by, and communicate with the source communities. This could mean collaborating with an artisan cooperative, or licensing designs from a representative group – something, to show that they are aware of the traditional basis for these designs and an effort to respect and invest in that community and their cultural property."
By collaborating with artisan groups, designers can create creative and commercial opportunities, even if it is a shift from traditional production methods.
When asked about what she wants visitors to take away from the exhibit, Tara said, "We want to spur visitors to question how we value fashion, traditional clothing, and handmade crafts. Why do we appreciate a couture dress from a French atelier more than we appreciate a completely handmade outfit from an Indigenous artisan group in Mexico?" 
She continued, "What makes a garment "exclusive" and "luxury"? How can we better value and invest in traditional cultural resources? What can we do to bring fashion and traditional skills and artisans closer together, for mutual benefit?"
In conclusion, Tara also expressed hope for better legal rights and protections for traditional communities, "who have historically seen their intellectual property treated as if they are in the public domain, and thus something they cannot benefit from."