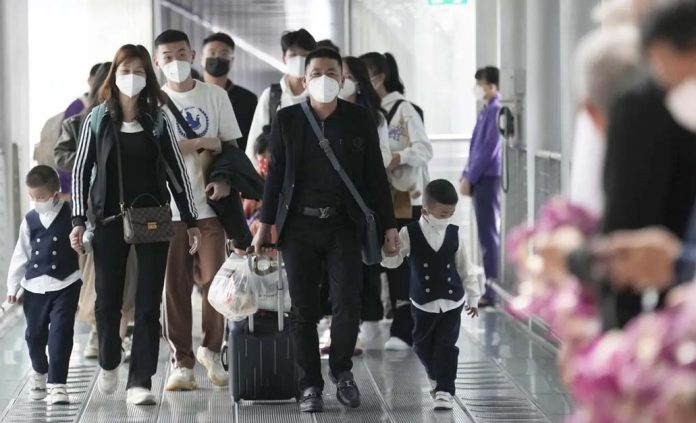 The Thai government expects to attract over 2.9 million visitors from China as part of the five-month visa exemption period. The tourists will bring in THB 140.3 billion (USD 3.8 billion) by 29 February 2024.
The five-month period, starting on 25 September, was implemented to help aid Thailand's wobbly economy, and has already proved to be a positive move for the country's economy,  according to the Bangkok Post.
"More than 22,000 Chinese visitors have entered the country in the first two days of the program, and the country expects to collect THB 140.3 billion (USD 3.8 billion) in tourism revenue from the program," government spokesman Chai Wacharonke said on 1 October on the Royal Thai Government Facebook page.
Furthermore, around 650,000 Chinese tourists have booked trips to Thailand in October, with the Tourism Authority of Thailand (TAT) "expecting to welcome around 4.04-4.4 million Chinese tourists in 2023," according to Ms. Thapanee Kiatphaibool, Governor of the TAT.
"We appreciate this policy and are willing to provide necessary support. Meanwhile, we expect that Thailand could provide safer and better service for Chinese tourists," said the Chinese Embassy in Thailand's spokesperson.
Thailand has already welcomed 19.5 million foreign tourists this year, with an expected total of as many as 28 million visitors by year end. As for neighboring Laos, the nation has welcomed a total of 1,674,436 tourists as of June, and expects to attract around 368,000 visitors from China by the end of the year.
Notably, Laos' Ministry of Information, Culture and Tourism aims to attract USD 712 million in revenue for 2024, as part of the Visit Laos 2024 tourism campaign, which will officially launch on  23 November. 
To prepare for the influx of visitors, provincial authorities have upgraded tourist attractions across Laos to meet international standards. Additionally, they have installed road signage on routes connecting to neighboring countries and leading to tourist attractions, improved visitor facilities, and introduced outdoor activities such as hiking, climbing, and camping.