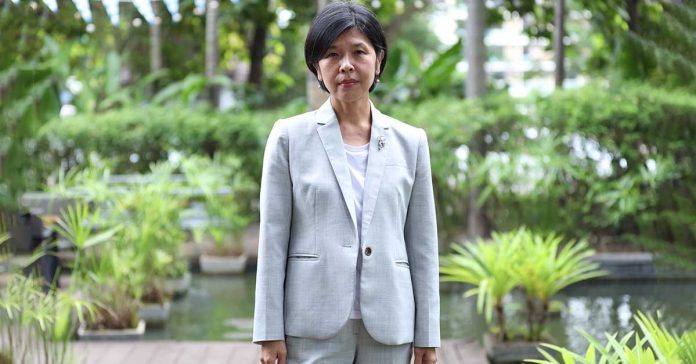 Ping Kitnikone presented her credentials to the Lao president Thongloun Sisoulith on 28 September. She is the new Ambassador-designate of Canada to Laos, Thailand, and Cambodia.
In an exclusive interview with The Laotian Times, Ambassador Kitnikone beamed with joy as she spoke about her life. 
"I'm a Canadian of Laotian birth, and being able to come back and represent my country while bringing the many experiences I've accumulated – including I would venture to say the appreciation of the Laotian culture – is something that I feel very privileged and honored to do," said the Ambassador, noting that it was a "touching" experience in her career.
Wearing a white suit and a friendly smile, she sat on a cozy couch in the lounge of the Crowne Plaza Hotel, in the heart of Vientiane's Capital, and carried on talking about her Lao origins and her career plans to strengthen the bilateral relationship between her two native countries. Her goals include developing bilateral trade relations, strengthening economic women's empowerment, and learning more about the needs of Lao people.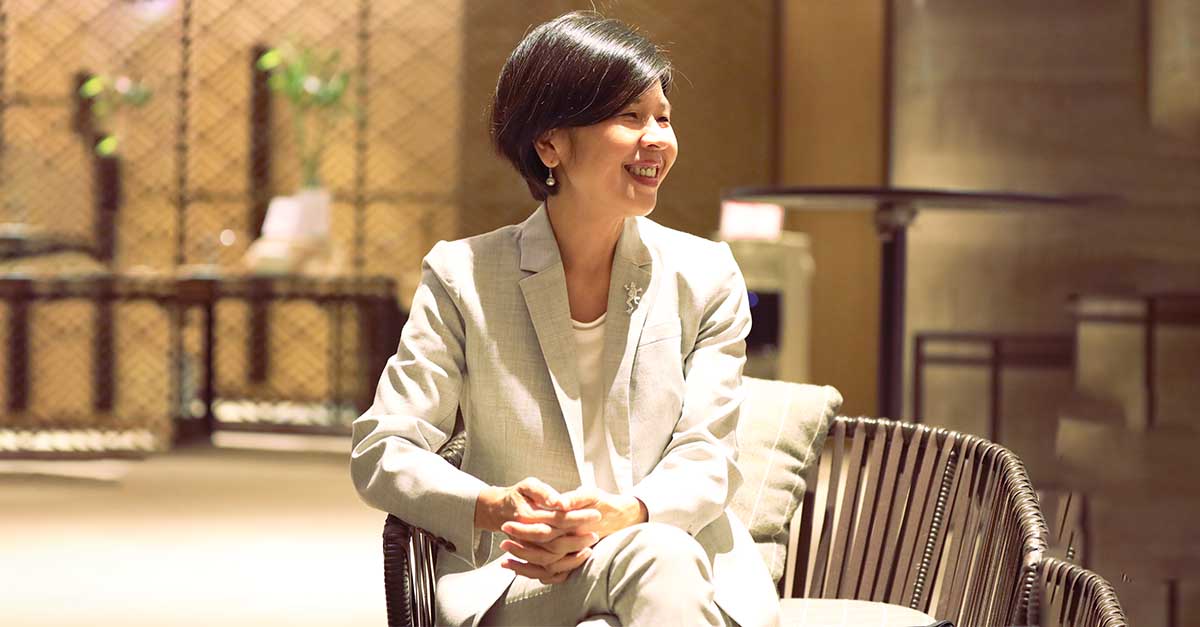 As she went on reflecting on her time in Laos as a young child, she recalled the fear she felt, calling that first decade of her life an "unstable time". It was in the late 1970s, during the American War that left Laos as the most bombed country in history. "My parents in particular were very concerned about our safety. In that context, we fled and Canada chose us [welcomed us as immigrants], and that's how Canada ended up becoming my adopted country."
After spending most of her life away from Laos, Kitnikone spent her recent years juggling diplomatic assignments in Southeast Asia and Canada, she first returned to Laos as a tourist in 1998. At that time she was serving as a Second Secretary in Beijing, China.
"Vientiane [Capital] was not as developed at that time, but I did recognize some of the landmarks, such as Patouxay, Wat Sisaket, and That Luang. I also remember the riverfront area when it was all open, but there were a few restaurants. Overall, it was a nice visit."
The Ambassador went on to showcase her Lao speaking skills by saying a few sentences in Lao with a bit of Thai sprinkled in as she was based in Bangkok from 2010-2014 where she learned Thai. She is also "quite" fluent in Chinese, she added, explaining that she picked up her fluency when she took part in Chinese language training during her time in Beijing.
Diplomatic mission in Laos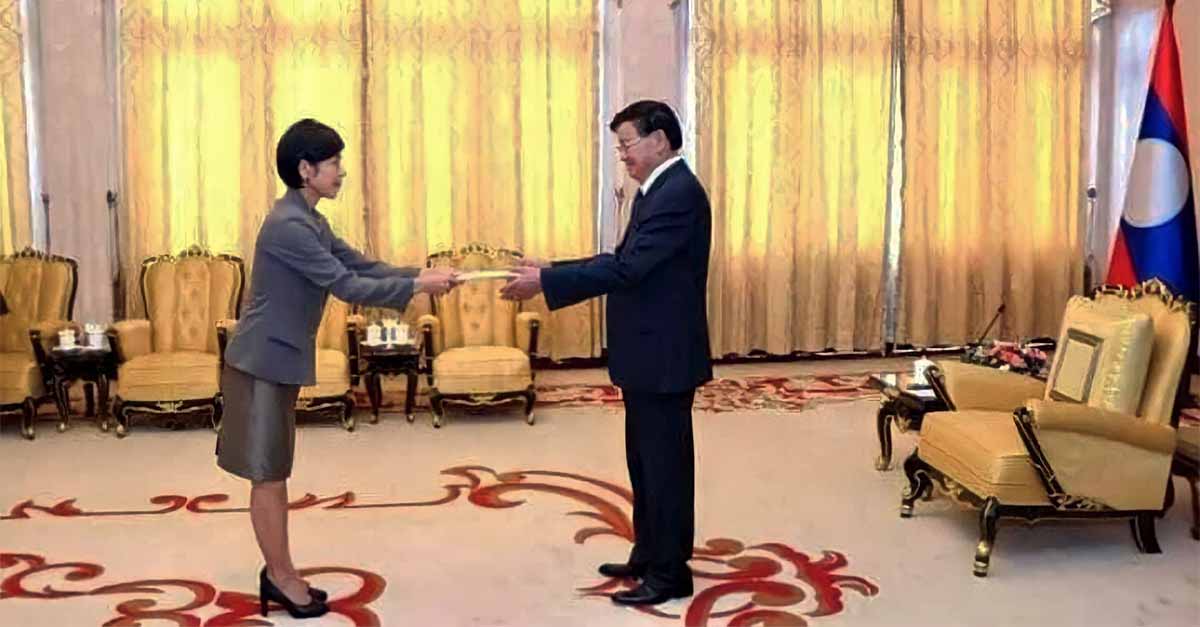 Today, Ambassador Kitnikone's diplomatic mission in Laos includes improving the trade and commerce relationship between Laos and Canada. With this goal in mind, the diplomat will spend the next months engaging in several official meetings with the Lao Ministry of Foreign Affairs to discuss the matter while also enhancing Canada-Lao bilateral relations.
"Laos and Canada have enjoyed a long and cooperative relationship, and we are soon approaching the 50th anniversary of diplomatic relations between our two nations," she pointed out.
Ambassador Kitnikone also noted that the relationship between the two countries is in a positive phase and is poised for further development, although she acknowledged that the number of good imports and exports between the two nations has experienced a decline due to the challenges posed by the COVID-19 pandemic. 
Kitnikone assured that Canada is ready to provide its full support to Laos' upcoming ASEAN Chairmanship in 2024.
"We have a solid foundation that we aim to build upon, and I am hopeful that, given the role the Lao government is assuming, we will discover further opportunities to enhance our engagement with Laos and build its capacity," she said. "Our [The Canadian] Prime Minister has already announced our support for the Lao government's demining efforts. This represents the first time we have been a bilateral partner in introducing this capability to the Lao government."
Another major project of the Canadian Embassy in Laos titled "Empowering Women Economy", holds a fundamental position within Canadian foreign policy while underscoring that the gender issue is intricately woven into Canada's approach to foreign relations, according to Kitnikone. 
"We are certainly viewing our projects through a gender lens, meaning that we carefully assess their impact on women and girls. This includes collaborations with our multilateral partners," she said.
To emphasize Canada's commitment to further advance gender equality in Laos, Kitnikone mentioned the Canadian Fund for Local Initiatives, through which Canada is well positioned to assist smaller local organizations in advancing the prospects and lives of women and girls.
"Inclusivity and diversity are two deeply cherished Canadian values," Kitnikone emphasizes. "We have been greatly encouraged by the openness we have witnessed in Laos."
When discussing how she plans to apply her experience from her two-year Ambassadorship in Vietnam to her current role in Laos, Ambassador Kitnikone commented, "Whether it was the experiences in Vietnam or my experiences in Mumbai, every assignment is different, and each of them offers the opportunity to learn something new."
"I believe that some of the challenges faced by Laos and its ASEAN neighbors would also be applicable. In that sense, I think that's how my prior experiences can be beneficial; all these experiences contribute collectively," she said.
In a closing message, Kitnikone placed great emphasis on her approach to communication with the Lao people. She believes that fostering strong connections and genuinely listening to the voices of the Lao population is of utmost importance. 
"I believe it's crucial to embrace Canada's core value, which is diversity. Therefore, I'm committed to actively listening and connecting with the people of Laos, particularly the younger generation, who tend to be quite optimistic. I hope that my understanding and appreciation of Lao and ASEAN culture will enable effective communication, as I consider this a valuable asset," she concluded.