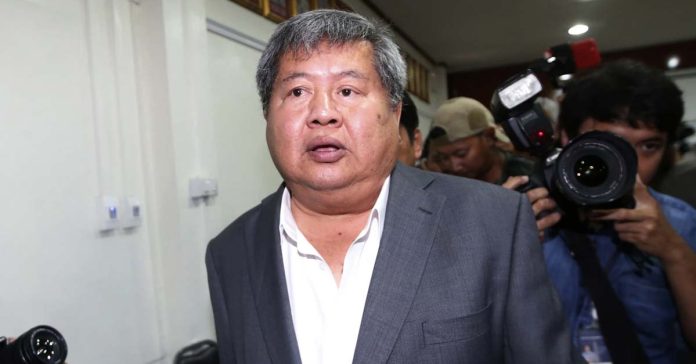 BANGKOK (AP) — A Thai construction magnate whose conviction on wildlife poaching charges became a rare example of the rich and influential facing justice in the country was freed Tuesday on parole, two months before his prison term ends, authorities said.
Premchai Karnasuta, chairman of Italian-Thai Development Plc, one of Thailand's top construction firms, was convicted of killing protected animals and illegal possession of weapons when rangers in Thungyai Naresuan Wildlife Sanctuary in western Thailand came across him and a small party of his employees at a campsite in February 2018.
They were found with guns and the carcasses nearby of a rare black panther, a kalij pheasant, and a barking deer. The black panther, which is a member of the leopard species, has been butchered, and its meat is cooked up for soup.
The sanctuary is a UNESCO World Heritage Site that's listed for its rare flora and fauna.
The Corrections Department said the 69-year-old Premchai was among more than 100 prisoners getting early release, and that he was exempted from having to wear an electronic ankle monitor because the device would aggravate wounds on his ankles caused by diabetes.
Premchai was initially convicted in 2019 and ultimately sentenced on several charges to a three-year, two-month prison term, as well as ordered to pay a share of a THB 2 million (USD 59,700) fine. Two men arrested with him – a driver and a hunter – also received prison sentences and fines.
Premchai's conviction was affirmed by Thailand's Supreme Court in December 2021, and due to time served and a 2019 change in the wildlife protection law, he was sent to stay in prison until December this year.
The 2021 ruling was hailed by the World Wide Fund for Nature – Thailand as "a victory for wildlife and the rule of law." It was also widely seen as a rare case of a rich, influential Thai having to serve time for wrongdoing. The Thai public has grown weary of repeated examples of wealthy Thais apparently flouting the law with impunity.
The best-known and still-unsolved case involving another of Thailand's richest families is that of Vorayuth Yoovidhya, an heir to the fortune of the family that part-owns the Red Bull energy drinks company.
He repeatedly avoided meeting with prosecutors for more than four years following his involvement in a car crash in 2012 that killed a traffic police officer. He eventually fled abroad, three days before a court issued an arrest warrant. His whereabouts are unknown.
_____
BY JINTAMAS SAKSORNCHAI Associated Press