Local Merchants to Move to Newly-Built That Luang Market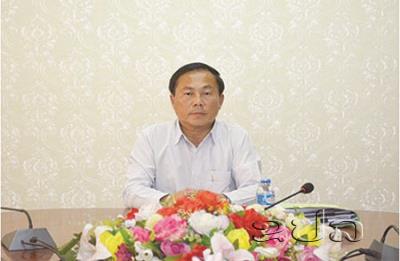 More than 500 shops in the current temporary market will be moved to the newly-built That Luang market at the end of next month.
The movement was announced by Xaythany Deputy Chief Mr Phoudthaphone Khotphanya at a press conference held on July 18 at the Xaythany Administration Office.
Mr Phoudthaphone, who is also responsible for the Ad Hoc Moving Committee for That Luang temporary market, said that the moving of the local merchants from the That Luang temporary market to the newly-built market is being done according to an agreement made by the Vientiane Capital Executive Board late last month.
According to the agreement of Vientiane Capital Executive Board, the movement of the merchants to the new location must take place prior August 23 to ensure the orderliness of society ahead of the 28th ASEAN Summit, which will be hosted by the Lao Government, as well as to relieve traffic congestion.
The Ad Hoc Moving Committee for the That Luang temporary market has already conducted a mobilizing campaign for the local merchants by granting them six months of of free rent at the new location.
Presently, 202 shops or about 40 percent of the total merchants have agreed to move to the newly-built That Luang market. The relocation plan will go according to schedule.
Source: KPL