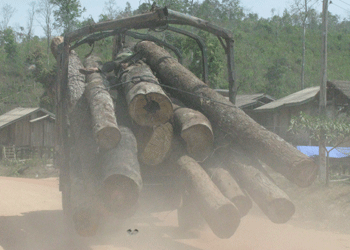 Lao wood processing businesses making furniture and other wood products for domestic supply and export will have sufficient raw materials, Prime Minister Thongloun Sisoulith has confirmed.
Speaking at the 40th Lao Business Awards in Vientiane last week after the new government strictly implemented forestry management plans for green development and sustainability by banning logging and timber exports, Mr Thongloun said large quantities of logs and timber have been seized.
The numbers in relation to illegal logging are not yet clear but the Prime Minister believed that illegally felled wood that had been impounded could be passed on to furniture makers for the next seven to eight years.
But ensuring the prevention of illegal logging and forestry protection will require strong support from every sector of government and privately owned businesses, Mr Thongloun stressed.
The government will direct the relevant sectors to crack down on wrongdoers, he added.
Some businesses have received export quotas from local authorities but this permission has not been scrutinised by the central government.
"If we declare that we have banned logging and timber exports until the country secures the highest benefits, then we should uphold this ban," Mr Thongloun said.
He stressed that no logs or trees that have been felled should be removed from forests or other land after they have been cut up for sale.
The move has been welcomed by furniture makers, who were worried about a lack of raw materials, but after the recent confiscations they are confident they will have plenty of wood to work with for some time to come.
The confiscated wood is expected to be put up for bidding by the government.
Every piece of wood should be turned into finished products such as furniture or wood carvings to maximise their value for the benefit of Laos, Mr Thongloun said.
In previous years, the government collected only about US$20 million in taxes from timber exports but Laos has actually sold wood products to neighbouring countries worth hundreds of millions of dollars a year.
The issue caused the government to lose large amounts of revenue, which has impacted on socio-economic development.
The new government believes that encouraging the manufacture of furniture products and wood carvings will bring in more revenue and create more employment opportunities. The Lao Furniture Association has asked for 30 percent of the government's annual wood quota to sustain its members' operations but this has yet to be approved.
Source: Vientiane Times