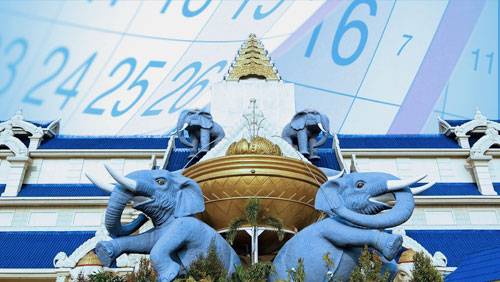 The deadline for casino services firm Macau Legend Development's $42-million deal to operate the disputed Savan Vegas Hotel and Entertainment Complex.
In a filing, the Hong Kong-listed company announced that the government of Laos has "agreed to extend the long stop date" for the so-called Initial Project Development Agreement from July 31 to August 31, 2016, with an option to automatically further extend to September 10 or earlier if necessary.
Macau Legend announced back in May that it has received the Laotian's government's approval to operate Savan Vegas as well as the right to a 50-year monopoly on casino operations in three provinces of Laos, including the area where Savan Vegas is located. A concession license for the 50-year monopoly will be issued under the Revised Project Development Agreement, the company said in a separate filing on Monday.
The second agreement will allow Macau Legend's Laos-registered project company to "engage in concession activities, lease the project area, and engage in the operation and management of the project."
Macau Legend's agreement with Laos gives the casino services firm a chance to convert the land next to Savan Vegas into another resort development—one that will feature two courses, a 600-room hotel, villas, casino, exhibition hall and spa, pool facilities, staff quarters and training facilities.
"As a result of the proposed replacement of the company by the project company as a party in the Revised Project Development Agreement, the company is expected to enter into a performance guarantee to guarantee the payment obligations of the project company with an aggregate liability of not more than US$30 million," the company said in Monday's filing.
Laos's agreement with Macau Legend forbids the government from granting new license, permit or concession to other parties that might want to operate gaming activities within the "exclusivity zone" without a written consent from the casino services company.
Savan Vegas's former operator, Netherlands-registered Lao Holdings NV, has been after the Laotian government for years now after Laos seized the casino complex in 2012 on grounds that the company owed it $23 million in back taxes. Lao Holdings protested the government's tax on gaming revenues as too overwhelmingly high at 80 percent (90 percent when coupled with VAT rate).
Source: CalvinAyre.com