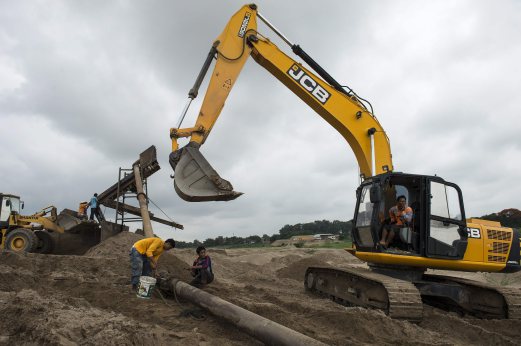 Malaysian companies operating in Laos have appealed to the government to have a stronger representation in Vientiane to assist in the dealings with the Laotian government and other stakeholders.
There are now 20 Malaysian companies which are actively operating in the country, in key areas such as hydropower, mining, development of specific economic zones, and infrastructure projects, especially railway which is led by Giant Consolidated Limited.
International Trade and Industry Minister Datuk Seri Mustapa Mohamed, who is attending the Asean Trade Ministers' meeting in Vientiane, said companies are currently being helped by the MATRADE regional office in Ho Chi Minh in Vietnam.
Malaysian companies have been playing an important role in the economic and social development of Lao PDR. We need to build on this strong foundation and expand our presence in this country to take advantage of its huge potential.
On Malaysian investments, he said Giant Consolidated's contract is to build the 220-kilometre Savannakhet-Lao Bao railway linking the country's western borders to Thailand and Vietnam.
The construction cost is estimated at US$1.3 billion while another US$ 4.5 billion is expected to be spent on the development of train stations and related developments in 11 cities along the route.
This project is expected to commence once the route alignment has been finalised by the Lao Government, he said.
Malaysians are also involved in two internationally certified education institutions, the Panyathip International School in Vientiane and Savannakhet, with total enrolment of around 10,000 students over the last 10 years.
Malaysian companies are involved in the development of three of the 13 Specific Economic Zones developed in the country namely at Savan Park (developed by Savan Pacifica Development), Dongphosy (developed UPL Lao) and another one in Thakek region, in the south of Lao PDR.
Savan Park is a joint venture development between the Lao Government and Savan Pacifica Development, with a total investment of around US$106 million.
This commercial and industrial hub is now operational and a number of companies, including five from Malaysia are already operating in this SEZ.
"The first three phases of its development have been completed, with the fourth and last phase expected to be fully developed by early 2017."
The Dongphosy Specific Economic Zone (DSEZ), being developed as a commercial hub by a Malaysian-owned UPL Lao in partnership with the Lao Government, is a 70-hectare duty-free retail zone equipped with modern residential facilities to promote the growth of tourism in Lao PDR.
The Gross Development Value (GDV) of this project is estimated at US$1 billion when it is finally implemented.
"The first phase is targeted to be completed by the end of 2018,"he said, adding that DSEZ is one of the most exciting development projects and UPL Lao is targeting to bring in more Malaysian companies to be part of this project.
Mustapa said that to date, Malaysia's investment in Lao PDR stood at US$430.2 million, the 6th largest foreign investor in the country.
In terms of trade, it is relatively small, with trade having expanded from US$2.4 million in 2003 to US$17.7 million in 2015.
Source: New Straits Times Online