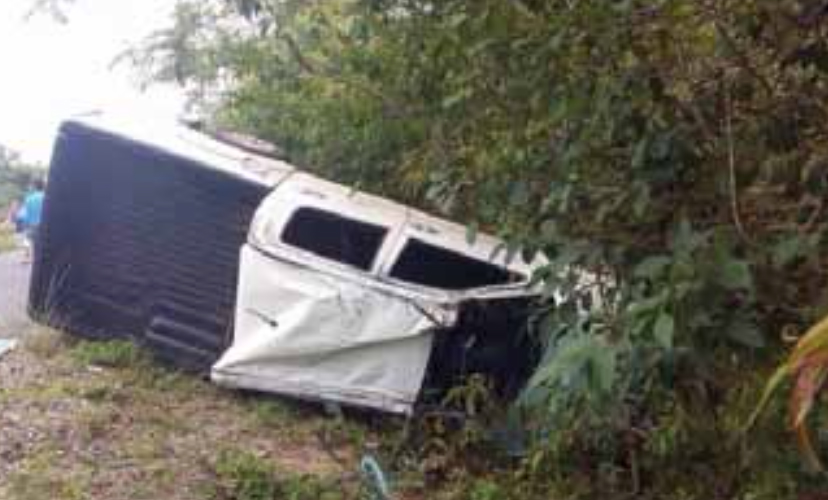 Road users travelling in both the northern and southern regions of the country should exercise caution whilst driving as the wet weather, occasional flooded areas and landslides make driving on the roads a potential hazard.There are generally always more accidents during wet weather conditions and a recent fatal accident in Champassak province has also been attributed to the recent rains.
Three police officers from Pakxe district, Champassak province were involved in a serious road accident on Tuesday in the nearby region of Mounlapamok district, Champassak province.
One officer was killed and the other two seriously injured in the fatal rollover.
Fellow police officials in Pakxe district told Vientiane Times yesterday that the three Pakxe police officers were leaving from Pakxe district to Khong district as part of their normal duties. Local police reported that the accident happened after the officer driving lost control of the vehicle, which overturned and rolled several times before coming to a rest on the roadside. The accident occurred around Thapho village, Mounlapamok district, in an area where the road is steep and curved so there is a high risk of accidents. The accident killed one officer, who was travelling as a passenger. He was later named as Mr Manosin Phothilath. Meanwhile the driver and the other passenger suffered serious injuries and are currently recovering in hospital.
According to local police,  the vehicle was extensively damaged and they are still calculating the total costs. From August 8-14, Champassak province recorded 20 accidents in which three people died, 22 people were injured, and 35 vehicles were damaged.
Meanwhile, the Vientiane Traffic Police Department's latest report from August 8-14 reported 90 road accidents in which 11 people died, 127 people were injured and 161 vehicles were damaged around the country.
Most of the accidents occurred as a result of drunken driving and non-compliance with the traffic rules. Many drivers didn't have a licence.
Statistics from the Vientiane Traffic Police Department show that people aged 20-25 and 30-40 are most at risk of being involved in an accident.
Source: Vientiane Times