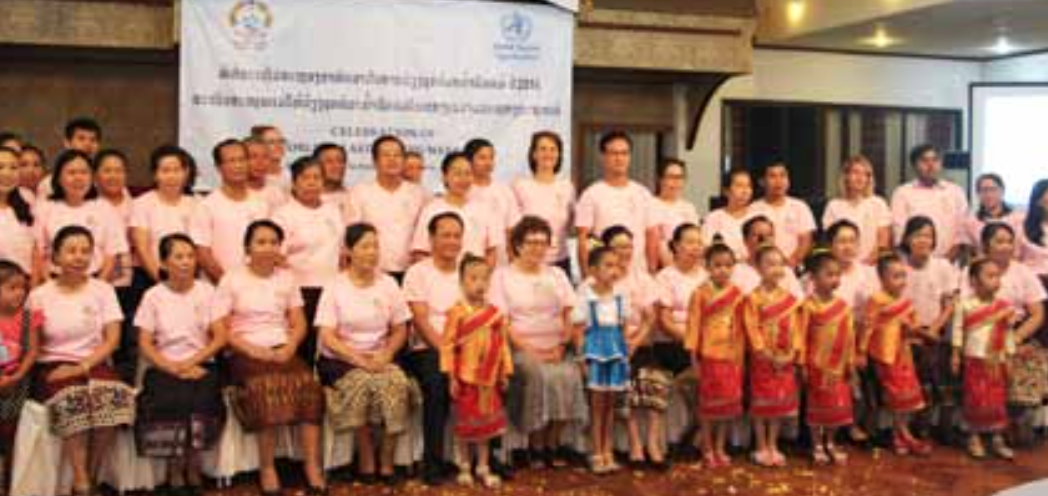 The Ministry of Health and the World Health Organisation (WHO) are encouraging exclusive breastfeeding and improving babies' health as a key means of supporting the achievement of the Sustainable Development Goals by 2030 in Laos.
The WHO has recommended breastfeeding for mothers from the initiation of breastfeeding within one hour of birth and exclusive breastfeeding for the first six months of life.
Mothers should continue breastfeeding for two years or beyond as well as introduce adequate and appropriate complementary foods from six months onwards.
Inappropriate promotion of commercially produced foods for infants and young children can undermine progress in optimal infant and young child feeding.
A representative committee of the Ministry of Health and the WHO took part in the World Breastfeeding Week celebrations in Vientiane yesterday, which is celebrated every year in August.
The celebration aims to promote breastfeeding for sustainable development by upgrading understanding and skills for local mothers and concerned officials.
According to the WHO, breastfeeding is best. Still, only one in three babies are exclusively breastfed at the global level, and about 40 percent in Laos.
In the new national nutrition strategy and plan of action for Laos, the government has set a target to increase exclusive breastfeeding to at least 50 percent by 2025.
Formula use in Laos has also increased substantially. The use of powdered milk or other breast milk substitutes more than tripled between 2006 and 2011, increasing by approximately 15 percent in urban areas.
Research also shows that formula is being used increasingly in many of the country's most remote areas.
A practice as simple as exclusive breastfeeding can save the lives of over 800,000 children under five worldwide every year, as it reduces the risk of child mortality. It can improve a child's survival by six times compared to non-breastfed children.
It also enhances a child's immunity against respiratory infections, diarrhoea and other life-threatening illnesses and helps prevent children from developing obesity and non-communicable diseases such as asthma and diabetes later in life.
Exclusive breastfeeding does not only benefit the child, but also the mother, by helping prevent certain types of cancer and diabetes. Encouraging nursing mothers to breastfeed their newborn and creating a more breastfeeding-friendly environment can have a positive impact on children's futures.
According to the WHO, breastfed children have fewer childhood infections and fewer chronic diseases (diabetes, obesity, cancers in later life).
Breastfeeding reduces various burdens on society such as health expenditures, hospitalisations and absenteeism while breastfeeding mothers have a lower risk of developing breast and ovarian cancer.
Source: Vientiane Times