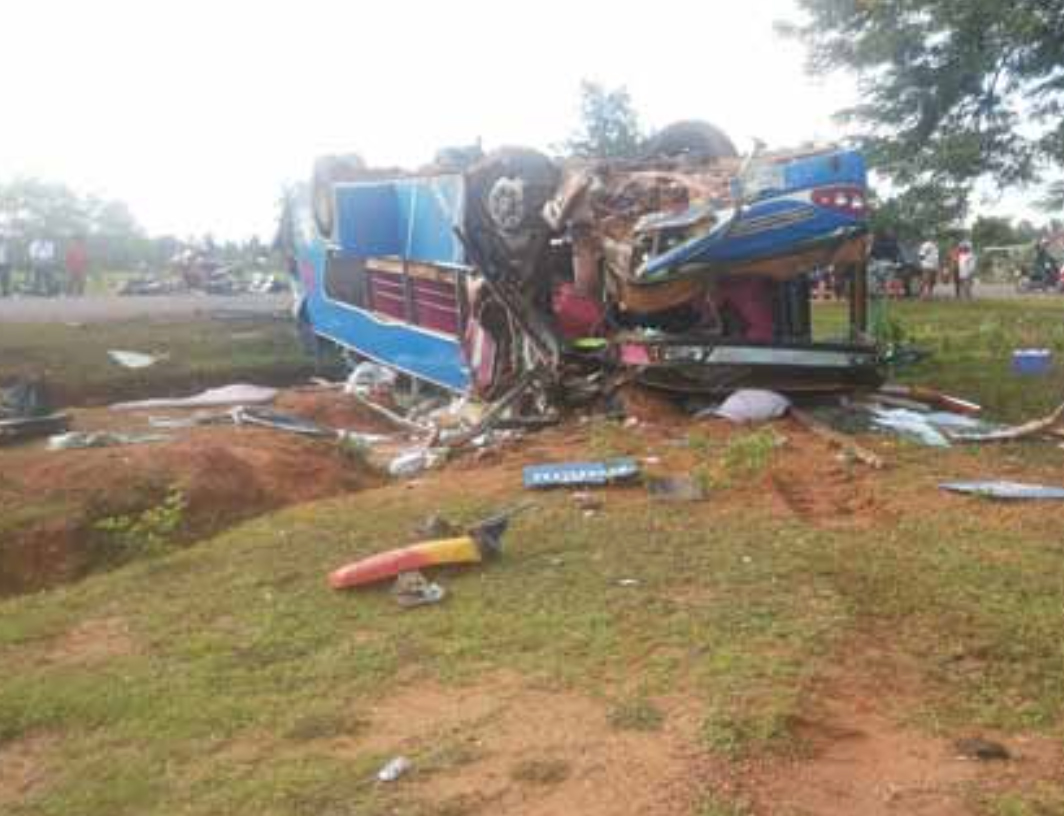 A Vientiane-Xekong bus lost control and rolled onto its roof in Xonephak village, Xanasomboun district, Champassak province, killing three passengers.According to Champassak provincial police, the driver of the bus reported that the steering on the bus locked up while it was travelling at speed along Road No. 13 South.
The bus, bearing plate number 0553 registered in Champassak was headed from Vientiane to Xekong province.
The accident occurred in Xonephak village, Xanasomboun district before the bus was due to arrive in Pakxe district at about 7:00am on August 23.
Champassak provincial police officer, Captain ChindavongKeoyotha told Vientiane Times that there were a total of 24 people on board including the driver, three Chinese passengers, and the remainder of local commuters.
Three victims were killed instantly in the crash. They were later named as Mr. Thongdam, 50, a resident of Nongsim village, Bachiengchaleunsouk district, Champassak province; Mr. Soukha, 68, a resident of Deua village, Xanasomboun district, Champassak province; and Mr. Nith, 24, a resident of Nalong village, Hadxaifong district, Vientiane.
The bus driver, Mr. Ham, 34, a resident of Samakhixay district, Attapeu province, also suffered injuries as did a number of the remaining passengers.
According to local police, the vehicle was extensively damaged and they are still calculating the total costs.
In the first two weeks of August, Champassak province recorded 20 accidents in which three people died, 22 people were injured, and 35 vehicles were damaged.
Most of the accidents occurred as a result of drunken driving and non-compliance with the traffic rules. Many drivers didn't have a licence.
Statistics from the Vientiane Traffic Police Department show that people aged 20-25 and 30-40 are most at risk of being involved in an accident.
There are generally always more accidents during wet weather conditions and a recent fatal accident in Champassak province has also been attributed to the recent rains.
Three police officers from Pakxe district, Champassak province were involved in a serious road accident recently in Mounlapamok district, Champassak province.
One officer was killed and the other two seriously injured in the fatal rollover.
Fellow police officials in Pakxe district said that the three Pakxe police officers were leaving from Pakxe district to Khong district as part of their normal duties.
Local police reported that the accident happened after the officer driving lost control of the vehicle, which overturned and rolled several times before coming to a rest on the roadside.
Source: Vientiane Times