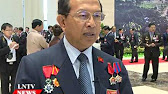 Lao Federation of Trade Unions (LFTU) held a meeting at its office on Friday to discuss the organisation's role in protecting workers' rights while exchanging experiences and setting future directions.

The LFTU currently has many women and young people as members working at factories and other places, and the organisation is determined to protect their rights while also helping to develop the nation, a leading official noted.
To be successful it was vital for the organisation to extend cooperation between central and local levels in the future, President of LFTU Mr. Pan Noymany said in his address at the meeting.
He urged all officials attending the meeting to exchange experiences and learn lessons from the past so they could implement future policies that would benefit both the organisation and its members.
The meeting was also attended by Director General of Labour Protection Department of LFTU Mr. Ounkham Boungnaseng along with senior officials from Lao Women Union and other organisations.
During meeting the senior officials stressed the good relationships between LFTU and other organisations which had helped to protect the rights of Lao workers.
In a review of its history the meeting highlighted achievements of the organisation including its responsibilities and the leading role it has played in representing workers' rights.
This had included training 68,599 workers (36,301 males and 32,298 females) at some 1,730 registered factories around the country.
The LFTU has also promoted health checks for 35,543 workers at 216 factories and provided treatment for 29,901 workers at many factories.
The meeting also paid special tribute to the efforts to assist workers in Savannakhet and Champassak provinces.
Source: Vientiane Times