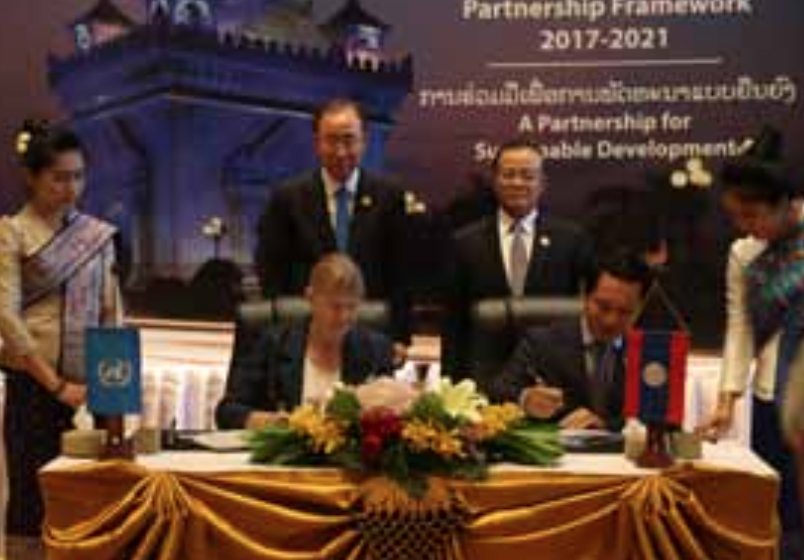 The government of Laos and the United Nations signed a new five-year partnership framework in Vientiane on Wednesday aiming to enhance development cooperation and collaboration.
The agreement was signed between Minister of Foreign Affairs Saleumxay Kommasith and United Nations Resident Coordinator Kaarina Immonen, in the presence of UN Secretary General Ban Ki-moon and Deputy Prime Minister and Minister of Finance Somdy Duangdy.
The Laos-United Nations Partnership Framework 2017-2021′ reflects the ambition of the United Nations to support national development priorities and the government's aspirations to graduate from Least Developed Country status and provide quality services to all citizens, according to the UN.
In his opening remarks at the signing ceremony, UN Secretary-General, Mr. Ban Ki-moon highlighted Laos' remarkable progress made on meeting the Millennium Development Goals, particularly on reducing poverty and hunger, universal access to primary education, the reduction of maternal and child mortality, and access to safe water and sanitation.
This Lao PDR-United Nations Partnership Framework seeks to maximise the combined resources and energies of the United Nations family in order to achieve national development priorities and the Sustainable Development Goals, Mr. Ban said. The Sustainable Development Goals are a set of 17 globally agreed goals with the aim to end poverty, fight inequality and injustice, and tackle climate change worldwide, with the target date of 2030.
Mr. Ban also praised the Lao government for incorporating the Sustainable Development Goals into its national development plans.
At the signing ceremony held at the National Convention Centre, Mr. Somdy said It is our fervent hope that the effective implementation of the new Framework, which is based on and aligned with our national development priorities and strategies, will complement and contribute to the successful implementation of the 8th Five-Year National Socio-Economic Development Plan (2016-2020) paving a way towards the graduation from LDC status and laying a strong foundation for the achievement of the National Strategy on Socio-Economic Development 2025 and Vision 2030 as well as the Sustainable Development Goals.
Meanwhile, Ms Immonen said the revived partnership will work to address the challenges Laos faces as a landlocked, least developed country, including improvements to the quality of public policy while promoting modernisation, innovation and effective institutions. The three pillars of the Lao PDR-UN Partnership Framework speak to these challenges.
These three pillars are inclusive growth, livelihoods and resilience; human development; and governance. The pillars align with national development priorities to boost economic, human and environmental benefits simultaneously.
The framework also integrates Laos' international commitments, including those related to human rights and development effectiveness.
The new partnership between Laos and the 21 agencies of the United Nations Country Team is expected to bring around US$80 million per year in technical cooperation to the country between 2017 and 2021.
Source: Vientiane Times