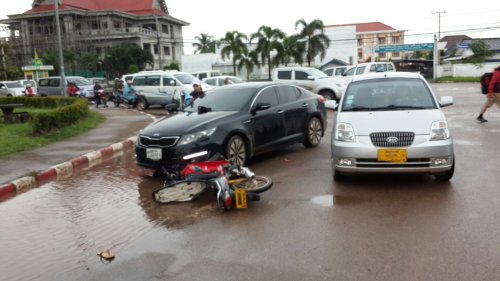 Over 700 people were killed in road accidents around the country over the eight months from January to August 2016.
The Traffic Police Department under the Ministry of Public Security reported that 3,746 accidents were recorded nationwide during this time, involving 714 fatalities. Some 5,935 people were injured and 6,883 vehicles were damaged.
Motorbikes were involved in 95 percent of the accidents, with 90 percent of those dying in accidents being male.
January saw 552 accidents and 117 fatalities, while in February there were 486 accidents and 103 fatalities.
There were 474 accidents and 97 fatalities in March, 618 accidents and 104 fatalities in April, 402 accidents and 65 fatalities in May, 468 accidents and 94 fatalities in June, 387 accidents and 64 fatalities in July, and 359 accidents and 70 fatalities in August.
The number of road accidents continues to increase, with many people dying due to dangerous driving. According to the Traffic Police Department, about 90 percent of accidents involve drunken driving, speeding and other violations of the traffic rules. Most accidents occur at weekends and on special occasions when people get together to drink.
In one recent accident that occurred in Vientiane, a motorbike rider was killed instantly when he crashed into another motorbike in Nonsawang village, Xaysettha district.
Police said the motorcyclist was traveling to Amon village in Xaysettha district and when he reached Nonsawang village he collided with another motorbike and died on the spot. The two people on the other motorbike were injured. The victim was named as Mr Bounthoy, 29, of Xaysettha district.
In Vientiane, 23 reported hit-and-run incidents have occurred this year and police have made nine arrests in connection with these cases, according to the Vientiane Traffic Police Department.
Police said most hit-and-run accidents take place in rural areas at night when it is dark and drivers can escape unseen.
Under Article 87 of the Criminal Law, anyone who is involved in a traffic accident and flees the scene is subject to a prison sentence of six months to two years and a fine ranging from 200,000 kip to 1 million kip.
Source: Vientiane Times