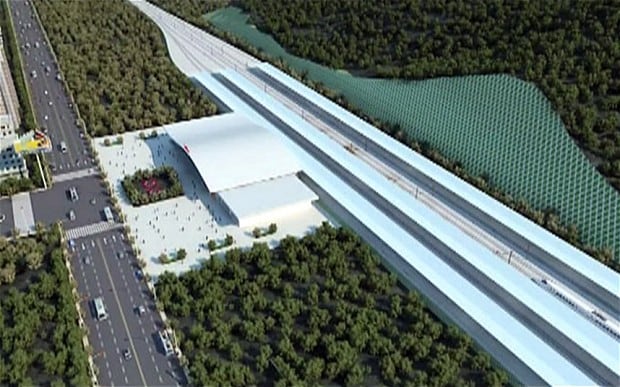 Construction of a historic railway linking Lao capital Vientiane to the Chinese border over a distance of 427 km is expected to begin in December this year, an official in charge said here Wednesday.
Agreements with six Chinese construction companies and six consultancy firms will be finalized next month which will pave the way for the commencement of construction at the end of 2016, said the official.
Director of the Laos-China Railway construction project and Director of the Lao National Railway Company, Koung Souk-Aloun, told Lao state-run online newspaper Vientiane Times Wednesday, "We have already signed an agreement with one Chinese construction company last year, and we will sign agreements with the other five Chinese construction companies and consultancy firms next month."
Meanwhile, the international trade publication Global Construction Review reported that the China Railway Group had won a 1.2 billion U.S. dollars contract to build a large section of railway through Laos. The group's announcement to the Hong Kong Stock Exchange last week drew a thumbs up from rating agency Moody's, which said the win would help it gain more business traction in Laos.
An official ground-breaking ceremony for the project took place in Vientiane in December last year to mark the 40th anniversary of the foundation of the Lao People's Democratic Republic. However, more work remains to be done including compensation for those affected by the project and demarcation of the precise route the railway will take.
Koung said compensation payouts to the owners of land and other property on the railway route would be completed this year.
Detailed demarcation of the project corridor for various planned stations was also needed before construction could begin, he said.
The planned single track with a 1.435-meter standard-gauge rail network would have 33 stations, of which 21 would be operational initially, according to the Ministry of Public Works and Transport.
There will be 72 tunnels with a total length of 183.9 km, representing 43 percent of the project's total length. The line will also have 170 bridges of 69.2 km, accounting for 15.8 percent of the rail route.
Passenger trains will travel at a speed of 160 km per hour, while the speed of rail freight will be 120 km per hour.
The railway in Laos will link with the track in Thailand to form part of the regional rail link known as the Kunming-Singapore railway, covering a total distance of some 3,000 km.
Source: ECNS