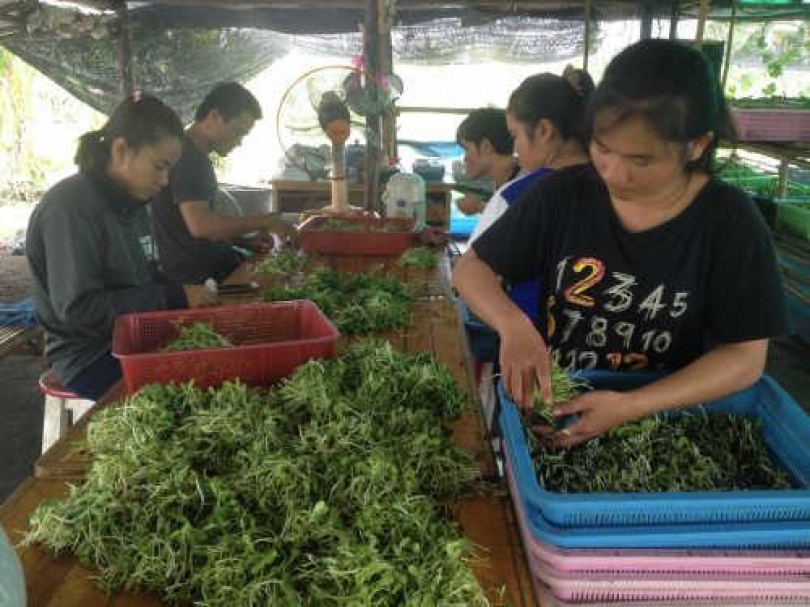 Migrant workers from Laos tend to assimilate better into Thai society than their counterparts from Myanmar and Cambodia, mainly due to similarities in language, lifestyle and culture.

Laotians are influenced by Thai television shows, especially soap operas, from an early age in their home country, while their identity and lifestyle is to a large extent urbanised in much the same way as Thais have been affected by modernity.
Moreover, most migrants from Laos enjoy strong social bonds, especially with relatives and neighbours who have lived and worked in Thailand, who have persuaded them to come here to improve their income and quality of life.
Vichien Chai-onta, 31, a Laotian from Kam Muan village who now works in Pathum Thani province, said a friend persuaded him to come to Thailand.
"Working in Thailand is not so difficult for Laotians. We face no limitations as both countries share a similar language, food, culture and lifestyle," said Vichien, who has been working in Thailand for more than four years and lives here with his wife and two daughters. Vichien is employed in Pathum Thani as a carer of a fishing pond.
"I have not had to adjust too much when working and living here in Thailand," he said. "I can use my smartphone to connect with friends and relatives in Laos, as well as those who work in other Thai provinces, such as Nonthaburi."
Vichien said that while living in Laos, he had learned Thai from local TV stations broadcasting Thai channels, as well as from Thai newspapers sold at the border market.
"In Thailand, I work and stay with a Thai employer in Pathum Thani, who has provided me and my family with both accommodation and food, as well as a school education for my kids," he said. Vichien earns Bt6,000 a month which, while not high, is much more than the Bt4,000 he used to bring in when working in Laos.
However, he spends only about Bt1,000 a month of his Thai income on local living and necessities, with the remaining Bt5,000 repatriated for home improvement in Laos.
Sroi, 29, who also hails from Kam Muan village, said she had been working in Thailand for almost 10 years, with her first job budding rubber trees in Phang-Nga's Takua Thung district.
"I came to work in Thailand as I wanted to earn money to build a new house for my family [in Laos]. I followed my older sister and her husband, who already worked as rubber budders in the South," she said.
After seven years, Sroi moved to Pathum Thani, where her employer runs a vegetable-farming business.
"I enjoy a better life in Thailand. Here, I can buy the types of food I want to eat, whereas in Laos I was content simply to have something to eat," she said.
"I've not had any problems working and staying in Thailand. Laotians can absorb Thai culture and the way of life through watching Thai television. In Laos, we are able to receive a strong signal for Thai TV channels.
"Kam Muan is only 6 kilometres from Nakhon Phanom province and most people in the village watch Thai soap operas and news. Language is not an obstacle for migrant workers from Laos when they come to Thailand. They are able to assimilate themselves into Thai society [without difficulty]," she added.
Sroi also said Thais and Laotians shared many of the same personality traits, including gentleness and sociability.
In her view, when it comes to the way of life, culture, language and communication, these are no barriers between Lao workers and Thai employers.
Source: The Nation