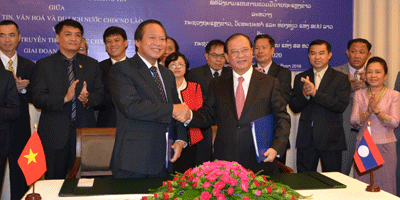 Laos' Ministry of Information, Culture and Tourism and the Ministry of Information and Communications of Vietnam have signed agreements in relation to cooperation in the development of the information sector from 2016-2020.
Lao minister Prof. Dr Bosengkham Vongdara and Vietnamese minister Dr Truong Minh Tuan signed the agreements on Tuesday. Over the past year, cooperation between Laos and Vietnam in this field has made good progress and projects such as the construction of radio and television stations in Savannakhet province have been completed according to plan.
During the meeting on Tuesday, participants discussed the operation of a radio station in Oudomxay province and another two projects underway in Luang Prabang and Champassak provinces. Laos and Vietnam also reached agreements in relation to newspapers and other printed products, exchanges of radio and television programmes and technical matters, and training.
On Monday, Head of Office of the Lao ministry, Mr. Vanhsy Kouamoua, and Head of Office of the Vietnamese ministry, Mr. Nguyen Thai Binh, signed agreements on continuing cooperation in IT system and electronic data management.
Meeting participants discussed lessons learnt during their past period of cooperation and the two offices agreed to further their relationship and to share lessons in the future.
In the past year the two offices have shared information concerning document management and this year agreed to cooperate in the use of IT systems and the management of electronic data. In particular, they will focus on the management of software programmes and databases.
Source: Vientiane Times