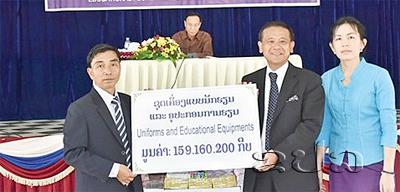 The Japanese Marubeni Educational Fund in Laos on September 19 donated uniforms and educational equipment worth about 159 million kip (US$19,600) to schools in Savannakhet Province.
The donation ceremony was held in the Ethnic Boarding School, Kaysone Phomvihane district, Savannakhet Province between a member of the Executive Board of the Marubeni Educational Fund, Mr. Hiroto Nishigaki, and Director General of the Kaysone Phomvihane Ethnic Boarding School, Mr. Somlith Ounthavong in the presence of officials concerned.
Over 900 schoolchildren in two rural districts – at the Sepon and Kaysone Phomvihane Ethnic Boarding Schools – in Savannakhet Province will receive the uniforms and educational equipment.
Sepon Ethnic Boarding School has a total of 462 students and Kaysone Phomvihane Ethnic Boarding School has 447 students. Over the past nine years, the Marubeni Educational Fund has donated a total of 1.8 billion kip (almost US$222,000) worth of educational equipment to these schools.
Marubeni engages in contribution activities for the international community, including personnel ex-changes, with a focus on supporting the development of young people in emerging economies through scholarships and donations overseas, mainly in the ASEAN region.
Source: KPL