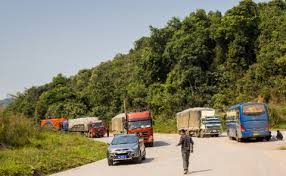 Hauliers continue to face difficulties over high transport fees because there is no specific warehouse they can use so they are forced to store freight in the customs warehouse which is costly.
Almost 80 percent of Lao transporters are unable to fully load their vehicles due to the lack of a dedicated warehouse system, according to the Lao International Freight Forwarders Association (LIFFA).
Speaking at a recent meeting organised by the Lao National Chamber of Commerce and Industry, LIFFA President Mr. Prachit Sayavong said the majority of international transporters use vehicles provided by neighbouring countries because no priority is given to Lao operators.
In addition, a large number of steps are necessary to complete the documents needed to import goods and the time taken to do this is unpredictable. Each ministry has different regulations which is damaging to the government's investment promotion policy, creates obstacles, and slows economic development, Mr. Prachit said.
Another problem is that the large number of Lao freight trucks cause chaos at the Lao-Thai Friendship Bridge in Vientiane due to the slowness in dealing with import document checks, he added.
A further obstacle is that finance offices in each region collect tax and value-added tax from overseas-based vehicles entering Laos and from vehicles travelling via Laos to a third country, which reduces the competitive edge of Lao hauliers.
Transport firms have to pay tax on each load as well as at the end of the year, which hits their pockets hard, Mr. Prachit said.
He added that the LIFFA had asked the government to convert the container park at Vientiane's Thanalaeng railway station into a dry port' that would ease logistics in line with international transport systems and regulations.
The association has asked the government to transfer the container park to the Ministry of Public Works and Transport so they could administer it together with the association. They also want the government to give priority to logistics firms that service companies with investment contracts.
More importantly, the relevant sector should monitor the enforcement of legislation and ask the government to address issues as quickly as possible.
In addition to this, the government should cut the amount of value-added tax it charges SMEs to increase their competitiveness with other countries, Mr. Prachit said.
Source: Vientiane Times