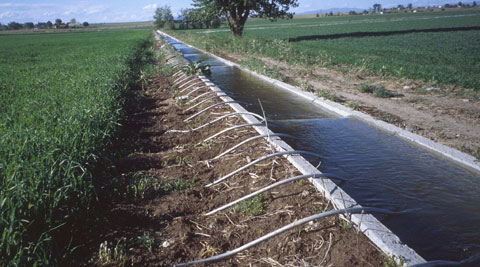 The Department of Irrigation has inked an agreement with JV Dasan Consultants Co., Ltd. and Yooshin Engineering Corporation of the Republic of Korea for the provision of consultancy services for an integrated agriculture and rural development project in Savannakhet province.
The agreement was signed in Vientiane on Friday between the department's Director General, Mr. Maykong Phonephommavong, and JV Dasan Consultants Co., Ltd. President Mr. Jea-Weon Yoo. The signing was witnessed by Deputy Minister of Agriculture and Forestry, Prof. Dr Khamphad Sourinphoumy, along with other government officials and local authorities.
The integrated agriculture and rural development project received a grant of US$350,000 for a feasibility study in November 2010, then Korea's KRC state enterprise sent experts to work with Lao staff to complete the study in March 2011, Mr. Maykong said.
After preparing the project for almost four years until February 2014, the Ministry of Finance on behalf of the Lao government and the Import and Export Bank representing the Korean government signed a loan agreement for the project worth US$46 million, with the Lao government contributing US$7.28 million.
The agreement was approved in June 2015, Mr. Maykong said.
According to the study conducted by Korean and Lao experts, the project will supply water for farming during two seasons each year over 4,100 hectares in Phonmuang, Sakeun, Phonthong-doneyaeng, Dongmuang, Lahanam and Lahakhok villages in Songkhon and Champhon districts.
Some 3,400 families will benefit from the project and it will also be of value for people in nearby districts and agri-business operations, Mr. Maykong said.
The objective of the project is to improve the living conditions of people in the target areas and to boost economic development in these rural districts.
The project will encourage farmers to grow more crops using the additional water supply, improve the irrigation system to prevent flooding and drought, and improve roads in the area to facilitate the transport of agricultural produce.
The project will also increase farmers' incomes, provide them with training on appropriate agricultural methods to help them strengthen water management, and teach them about the basic infrastructure of irrigation systems, while improving their lives in general through participation in the project. Mr. Maykong believes the newly signed agreement will ensure that the project operates in line with the regulations and is completed on schedule.
Mr. Jea-Weon promised that the strong support of the Lao government and the company's many years of experience would guide the project to a successful outcome.
Source: Vientiane Times