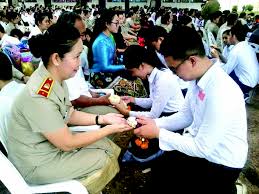 The private Progress School on Thursday held a ceremony to celebrate the 22nd anniversary of Lao National Teacher's Day (Oct 7).
The ceremony was held at the school in Vientiane Capital in the presence of the Vice Head of the Vientiane Education and Sports Department, Mr. Soukthavy Xayasan, students and their parents.
The ceremony was also to celebrate the graduation of grade-five students and Matthayom 4 and 7 students of the school.
At the ceremony, the Director of Progress School, Mr. Bounlay Luanglath highlighted the history of National Teacher's Day.
National Teacher's Day is the day that encourages people across the country to recall the historic event that took place 105 years ago when Mr. Kham, who had graduated from a pedagogical school, was recognized as the first Lao teacher.
In the 14th century, the first King Fa Ngum brought Buddhism from India to Laos. Consecutively, a number of temples were built and used as the first schools.  Since then, Buddhism has had a profound influence on Lao parents and children.
People sent their children to temples to be monks or temple boys and to learn how to read, write, do magic, draw, sculpt, etc.  All subjects were taught by experienced and literate monks.
They were taught without being classified or graded as with the current education system, but their knowledge was measured by years of monkhood.
After the colonial power France occupied Laos in 1893, very little attention was paid to expanding the education system for the Lao people.  Prior to 1905, there were only two schools in the country. One was in Luang Prabang and the other in Vientiane. Very few people could go to them but Kham managed to graduate year 6 from one.
Source: KPL