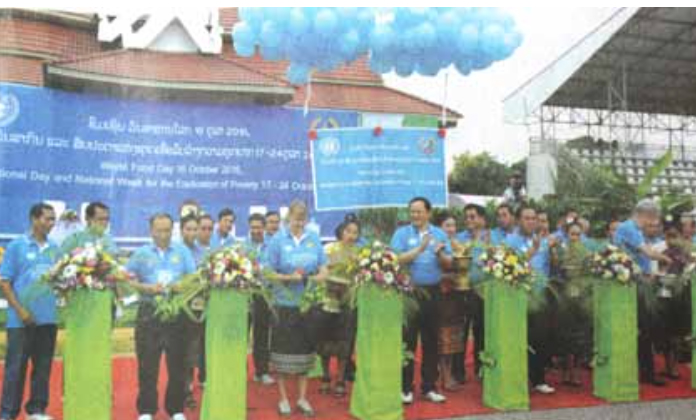 The government is set to eradicate poverty and scarcity by raising awareness among local people of the need to actively fight against these issues.
As part of this initiative, which is viewed as an important priority, an event to mark World Food Day, International Day and National Week for the Eradication of Poverty took place in Xayaboury province last weekend.
Deputy Prime Minister Dr Sonexay Siphandone and Minister of Agriculture and Forestry Dr Lien Thikeo were the main guests at the event along with representatives from international organisations based in Laos.
Xayaboury Governor Mr Phongsavanh Sitthavong spoke about the purpose of the event and welcomed guests.
Dr Lien also highlighted the importance of the 36th World Food Day and the 13th National Week for the Eradication of Poverty.
"Observation of these important days will make more people aware of the real meaning of poverty and scarcity," Dr Lien said, adding that these issues could be erased with sufficient willpower.
"To achieve our goals, people should be actively involved in wiping out poverty and scarcity under the direction of government and international organisations," he said.
The Ministry of Agriculture and Forestry is coordinating with its development partners and the international community to give advice on agricultural development in order to minimise the impacts of climate change.
The government believes that farmers can adapt to changing weather patterns and produce enough crops so that the country can enjoy sustainable food security.
Source: Vientiane Times