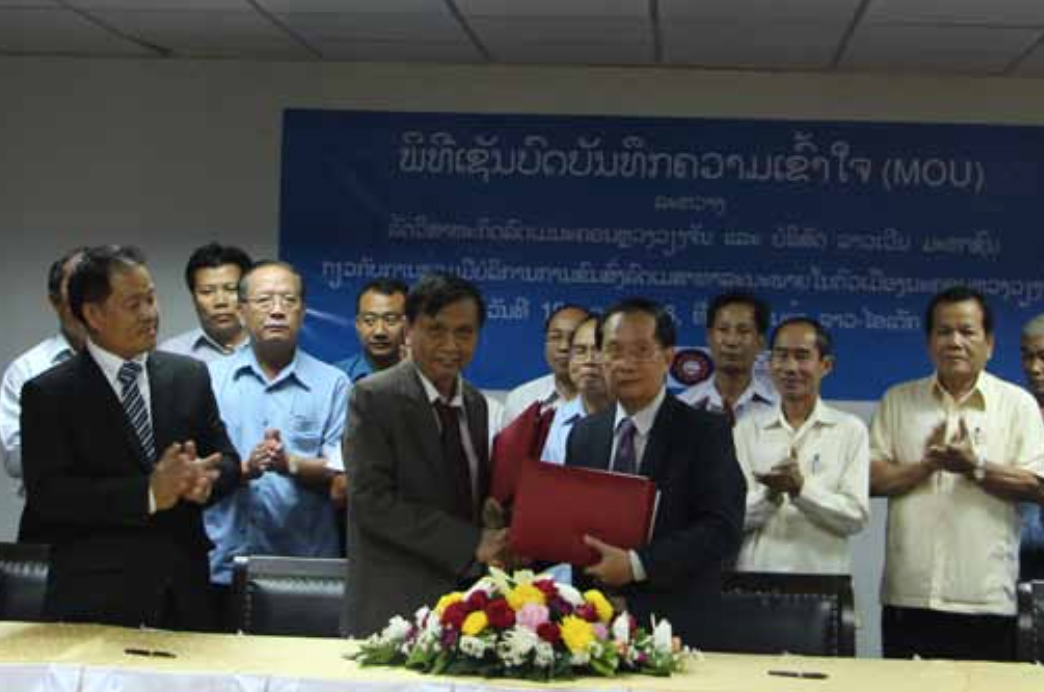 Electrically powered buses will take to the streets of downtown Vientiane later this month to encourage more people to use public transport and reduce traffic congestion in the city centre.
The Vientiane State Bus Enterprise (VSBE) and Lao World Public Company are collaborating in a pilot scheme to operate 10 electric buses along the capital's main roads.
The 24-seater buses will run from the Lao International Trade Exhibition and Convention Centre (Lao-ITECC) to the That Luang esplanade and from the Patuxay Monument to bus stops by the Mekong River .
They will also travel along Fa Ngum Road, past Pakpasack Technical College and along Setthathirath Road.
A Memorandum of Understanding on the project was signed yesterday by the Director of the Vientiane State Bus Enterprise, Mr. Khamphoune Temerath, and Vice Chairman and member of the Board of Directors of Lao World Public Company, Mr. Visanh Nalongsak.
Also present was the Director of the Vientiane Public Works and Transport Department, Mr. Detsongkham Thammavong.
Mr. Khamphoune said the one-year pilot project will start at the end of this month. It is hoped that people will choose to use the buses instead of their own vehicles so that traffic congestion is reduced, especially around the Morning Market.
If the pilot project attracts a lot of public interest and people use the buses, the VSBE and Lao World will provide more electric buses and expand the routes so that passengers have more choice.
Transport officials are currently installing a bus locator system and traffic observation packet sensor system to modernise bus services, in the hope that passengers no longer have to worry about long wait times.
These systems are being installed in the capital's buses as well as at police posts to help improve bus services and make public transport a more attractive option for both local residents and foreign tourists.
The systems will also be able to detect the number of vehicles on a road and give priority to heavy traffic in a bid to avoid and reduce congestion.
Source: Vientiane Times