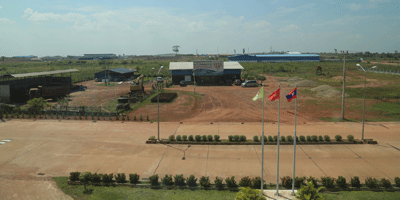 Authorities are in talks to find a solution after two manufacturing plants in Vientiane were ordered to temporarily suspend operations amid fears of environmental impacts, a senior government official has said.
Director General of the Industry and Handicraft Department of the Ministry of Industry and Commerce, Mr. Manolack Rasachak said yesterday he was unable to give a timeframe when a solution might be found, saying it could be time consuming to work out this critical issue.
"Officials in charge are discussing the matter to explore solutions," he told Vientiane Times .
Two foreign-owned manufacturing plants in Vientiane Industry and Trade Area (VITA Park), which recycled batteries and electronic appliances were ordered to temporarily suspend their operations in light of fears for their environmental impacts. The plants have suspended their operations for 11 months now.
VITA Park's Vice President Mr. Thongkhanh Vongphrachanh said the suspensions were in the aftermath of another factory located outside the park that recycled similar products, which he said was causing severe environmental impacts on nearby local communities.
As a result of the impacts, the government has prohibited the import of recycling raw materials and the park later told the two plants to suspend operations.
VITA Park's President Mr. Sibounheuang Vienheuangphay stated the two plants had been certified by officials in charge of industry and environment affairs and that the plants' operations meet the existing industry standards.
The president added that the investors have kept asking for measures to implement and are willing to improve their business operations to meet the standards.
"We have proposed that higher authorities seek solution measures including issuing additional standards that the investors are required to observe and meet. That's what they [the investors] are looking for," he said.
There is a concern that the issue would undermine confidence of investors in doing business in the park which is being developed on 110 hectares and started operations at the end of 2009.
Last year, only two companies registered to invest in the park, where 46 companies have already invested attracting more than US$60 million registered capital.
To address the issue and maintain the confidence of the businesses, President of the National Assembly (NA) Pany Yathortuo during her recent visit to the VITA Park told the administrative council of the park to accelerate coordination with the relevant sectors to work out a solution.
Mr. Sibounheuang added that five Japanese companies had recently inked memorandums of understanding to invest in the park.
Source: Vientiane Times