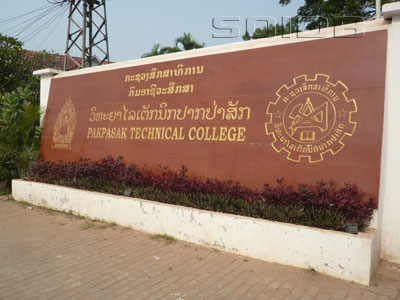 The Pakpasack Technical College will produce skilled workforces for the KOLAO Group, the Vientiane Motor Market Co., Ltd and the KEO Auto Group Co., Ltd. following the signing of an MoU on Wednesday.

The objective of the MoU is to produce skilled workforces for the automotive industry at the college in order to meet the high demand of the labour market.
Pakpasack Technical College will focus on an inclusive learning and teaching approaches and practical teaching methods for students in order to create skilled workers for the future.
"Currently, the labour market continues to suffer from a lack of skilled employees.  The private sector will have a big role in the future designing and developing curricula and other technical educational materials for the automotive sector so that students can catch up with new automotive technology," said Director of the Pakpasack Technical College, Mr. Saykham Phanthavong.   
"Every year, we grant scholarships to the most promising students so as to promote them. Our school also helps them find jobs after graduation," said Mr. Saykham.
The MoU was signed at the Pakpasack Technical College in Vientiane Capital by its Director, Mr. Saykham and representatives of the three above mentioned companies in the presence of Director of the Vocational Education Department Mr. Nouphanh Outsa, teachers and students.
The KOLAO Group, Vientiane Motor Market Co., Ltd and KEO Auto Group Co., Ltd are leading companies in the country.
Source: KPL