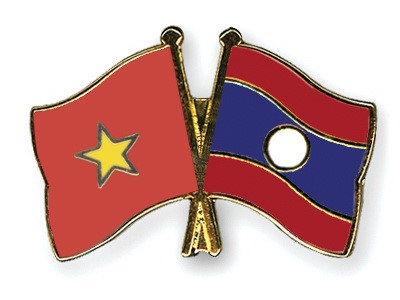 Prime Minister Thongloun Sisoulith vowed that the Lao Government would create the most favourable conditions possible for Vietnamese investors and direct ministries and sectors to work with Vietnamese firms to seek solutions to specific matters.
At his first-ever dialogue with the Vietnamese business community in Laos on Oct 21, Prime Minister Thongloun asked the Vietnamese investors to sympathise and cooperate with Laos to improve the working mechanisms and management capacity.
The prime minister informed the investors that Laos is ceasing to grant land for rubber tree cultivation and to grant licenses for new mining projects, citing the low price of rubber, the shortage of labourers and land, and environmental factors as among the reasons.
He underscored that the Lao Government encourages investors from all countries to join fair competition, and asked them to strictly abide by the country's laws.
PM Sisoulith emphasized that his presence at the meeting, along with more than half of the cabinet members of Laos, showed the significance with which they consider Vietnamese investors and their wish to find solutions to problems hindering the operations of Vietnamese firms.
Complaints were mainly focused on the procedures required to get investment licenses, land use and ground clearance policies, the import and export of goods and temporary import and re-export services, taxes, related fees and tax refunds, visas for labourers, and other general challenges with the business environment.
He noted that after 15 years, Vietnam has become the third largest foreign investor in Laos demonstrating the close ties between the two countries in all fields.
During the dialogue, leaders of Lao ministries also answered questions from Vietnamese enterprises.
Deputy Prime Minister and Minister of Finance Somdy Douangdy promised to deal with the slow refund of the value added tax, while Deputy Minister of Labour and Social Welfare Baykham Khattiya said that the ministry would consider specific foreign-funded projects and ask for a greater allowance for manual labourers than the 10 per cent cap imposed on manual labour for each project.
Last Friday's dialogue provided a venue for Vietnamese investors to talk directly with the Lao government about difficulties and obstacles they have been facing when doing business in Laos.
General Director of PV Oil Laos Nguyen Kim Son said that the dialogue was a success, as this was the first time the Lao PM has directly spoken to representatives of Vietnamese businesses in Laos about the problems they are facing.
Statistics from the Association of VietnamInvestors in Laos(AVIL) show that Vietnamese investments in Laos have continuously increased in the 2011-2015 period in terms of both the number of projects and capital.
By the end of September 2016, Vietnam had 266 licensed projects in Laos with a total registered capital of US$5.1 billion, up 1.3 times and 1.26 times respectively from the figures for 2011.
Vietnamese investment projects are located in 16 of the 18 provinces of Laos, many of which have contributed significantly to local socio-economic development. The projects contributed US$240-260 million to Laos' state budget each year, and created 35,000 jobs for labourers. The figures are expected to increase to US$350-400 million and 45,000 jobs for labourers respectively in 2017, and are expected to continue to rise in the future.
Source: KPL