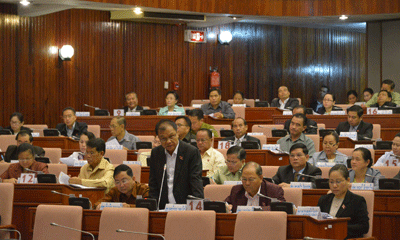 National Assembly (NA) members have called on the government to improve public services, cut lavish spending and plug revenue leaks in an attempt to boost growth and revenue collection.
Law makers attending the Assembly's ongoing debate session are mulling the government's proposal to revise the next four-year national socio-economic development plan (2017 – 2020), which seeks to lower economic growth forecasts.
The proposed plan would lower the annual economic growth target of at least 7.5 percent as outlined in the original five-year national socio-economic development plan (2016-2020) down to 7.2 percent for 2017-2020. The proposed revision came after growth in the 2015-16 fiscal year was recorded at 6.9 percent and revenue reached only 95 percent of the plan.
NA President Ms Pany Yathotou asked why the policies and measures formulated to realise the national socio-economic development plan had not been fully implemented to deliver good public services and boost investment and trade.
Have state administration mechanisms provided incentives for business operators and the people?, she asked.
Ms Pany said public services provided by state departments had been slow. She noted that in Vietnam it takes only three days for an investment licence to be approved, while in Laos it can take up to a year for some projects to be approved.
How can we compete with other countries in a time of economic integration?, she asked. Ms Pany called for members of parliament to share their views on how to remove barriers and streamline procedures to expedite processes to ease trade and investment.
NA members noted that the so-called one-stop service the government had introduced several years ago still consisted of many steps and remained time-consuming.
NA member for Saravan province, Mr. Savankhone Razmountry, called for the Ministry of Finance to expedite the formulation of regulations to manage expenditure and revenue collected from state services.
He also called for the inclusion of the plan to switch from analogue to digital broadcasting transmission by 2020 into the four-year development plan. He said lessons learnt by other countries showed that service charges for viewing television generated considerable revenue.
NA member for Phongsaly province, Mr. Kongchi Yangcheu, disagreed with the proposal to lower growth targets for the remaining four years given that the original five-year plan (2016-2020) had only been in effect for one year even though it had failed to meet the target.
He added that the new government had only been in office for six months and since it had been strengthening its administration, there was opportunity to maximise all potentials and pursue the 7.5 percent growth target.
He suggested that the government strictly enforce the rule of law to ensure that revenue was fully collected.
In previous years, we haven't strictly enforced financial discipline. Many people found guilty [of fraud] weren't prosecuted. This will become a severe cancer blocking us from attaining targets if left unaddressed, he said.
He praised the government for recently bringing to justice many of those involved in fraud.
Mr. Kongchi recommended cutting the ballooning spending on sports competitions and instead using the money to build infrastructure.
He also stressed the need to reduce the number of civil servants, saying that the ratio of 2.8 civil servants for every 100 citizens was high and forced Laos to carry a heavy burden with regard to salary payments. It has been reported that in most countries the average ratio is less than two public servants per 100 people.
NA member for Oudomxay province Mr. Bounlort Onphachanh asked the government to do more to collect all the land taxes owed, noting that the amount collected fell far short of the potential.
He said concrete incentives were needed to promote small and medium enterprises, adding that these businesses were critical to drive the country's growth.
Given the current budget constraints, NA members agreed that the government should be more frugal.
NA member for Attapeu province, Mr. Leth Xayaphone, called on the government to curb lavish spending on vehicles used by high-ranking officials.
He also asked the government to carry out in-depth assessments of proposed development projects before approving them, noting that some were not particularly necessary but approval was granted anyway.
Source: Vientiane Times