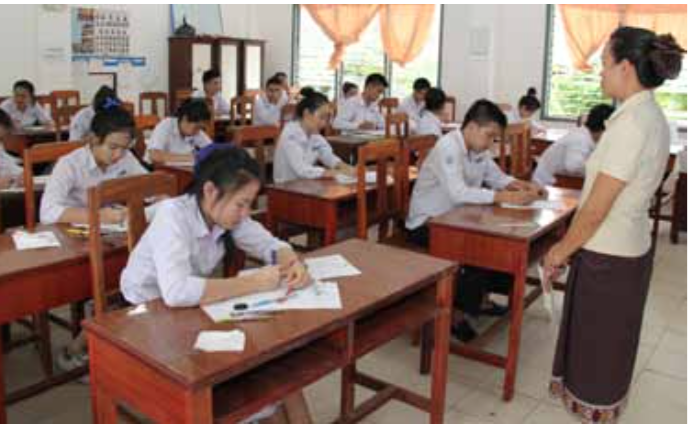 Volunteer teachers in Vientiane, along with newly graduated education students, will participate in an examination on December 10 of this year in the hope to become full-time civil servants of government.
This year, more than 1200 volunteer teachers, including newly graduated students from the Teacher Training College, have registered at the Vientiane Education and Sports Department to be employed as civil servants, officials confirmed.
Currently, there are around 700 volunteer teachers in Vientiane who are still waiting for a quota allocation to become fully paid state employees.
The exam assesses their competency as a way to resolve quality issues and ensure fairness for all volunteer teachers.
A senior official from the Vientiane Education and Sports Department, Mr Khampanh Bounphaxaixon, told Vientiane Times yesterday the objective of the exam this year is to help solve the problem of teacher selection and ensure that only the best qualified teachers are recruited to serve the country.
The Vientiane Education and Sports Department wants to allocate a quota of 200 new teachers in order to respond to the needs of the education sector, but the government has only approved a quota of only 107 staff.
Mr Khampanh said for many years it has been a concern among volunteer teachers that they are not allocated enough places to join the ranks of fully paid state employees in the education sector.
Once the move is instituted, newly graduated teachers who can pass the competency exam will be among those interviewed as prospective state employees, he said.
I think this exam serves as an important function in solving the concern among volunteer teachers about fairness in the selection process, he continued.
Personnel Department Director General of the Ministry of Education and Sports, Mr Chansamout Keosouttha, said the majority of young teachers who do not receive a quota allocation to become state employees end up leaving their volunteer government posts to go and work in the private sector instead.
Private school jobs are considered by some as more secure because volunteers do not know if or when they will receive their quota allocation to work as a state employee.
He said the demand for teachers at private primary schools is also increasing every year and the schools offer negotiated salaries and welfare provision for their teachers while the government cannot guarantee volunteers an allocated assignment.
The other reason many volunteer teachers decide to work with private schools immediately after graduating is they worry they could miss out on a long-term employment opportunity if they wait for a government job, Mr Chansamout said.
A volunteer teacher has to work at least two years to be eligible for a promotion to the status of civil servant, according to the old policy.
The majority of the provinces have allocated full-time placements to newly graduated students, because others have been unable to comply with the policies of the ministry.
Mr Chansamout said directly giving recent graduates a quota allocation has held back the development of the education system in the country because some of the volunteer teachers who are elevated to the status of civil servants still lack experience.
We think the exam system can solve these problems and create more transparency in the education sector, he noted.
According to the ministry, there are currently around 10,000 volunteer teachers nationwide who are still waiting for a quota allocation to become fully paid state employees.
Source: Vientiane Times