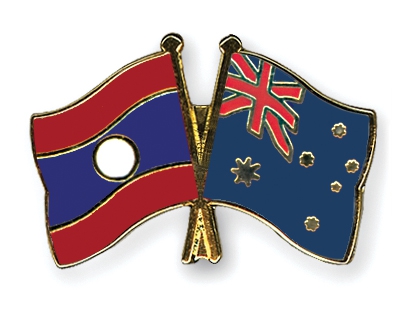 To help mark 65 years of Australia-Laos diplomatic relations, the Australian Embassy is seeking nominations for awards to recognise the substantial contribution by individuals or groups to Australia-Laos relations.
The awards will be conferred at next year's Australia Day reception at the Australian Embassy on January 26; an event, which in 2017 will also mark the 65th anniversary of bilateral ties between the two neighbours in South-East Asia, according to a press release from the embassy.
Australia's Ambassador to the Lao PDR, John Williams, said, The 65th Anniversary Awards was an appropriate way for the Australian Embassy in Vientiane to recognise the efforts by outstanding individuals , past and present, who have helped shape the very positive ties between Laos and Australia at any stage over the past seven decades.
We are proud Laos' relationship with Australia is the country's longest unbroken diplomatic relationship at the Ambassador level, Williams said.
It's a relationship that continues to flourish through the extensive, positive contact between the governments and people of both countries, including in education, business, the arts, agricultural research and exchanges between our officials and parliamentarians.
Ambassador Williams said that he would not be surprised if some of the more than 1200 alumni of Australian universities under the Australia Awards scholarships programme were among the awards nominees, given their ongoing links with Australia.
He said there were also a number of business leaders who had helped cement the substantial two-way trade and investment links between Australia and the Lao PDR, and experts who had contributed markedly to Laos' development in areas such as agriculture, forestry and fisheries.
Members of the public, or organisations, can submit nominations to the Embassy before December 20.
Nominees can include Lao o r Australian citizens, or in exceptional cases third country nationals, who warrant recognition for their outstanding contribution to Lao-Australia relations through excellence in their particular field – whether from business, education, academia, civil society, development, medicine, the arts, government, politics or media.
Nominations for organisations or groups that have made an exceptional contribution to Laos-Australia relations will also be considered.
Nominations of no more than 300 words should be submitted by email (in English or Lao) to 65th Anniversary Australia Laos@dfat.gov.au by December 20.
Nominations should include basic biographical details about the nominee a short description of that individual's contribution to Laos-Australia relations and why it warrants official recognition. Photographs welcome too.
The final decision on awards will be made by the Australian Embassy in Vientiane. All enquiries should be directed to 65th Anniversary Australia Laos@dfat.gov.au.
Source: Vientiane Times