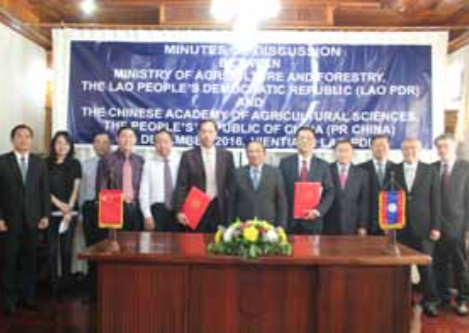 Laos and China have agreed to cooperate in the areas of crop science, plant protection and animal science after reaching an agreement.

The two parties also agreed to work together in the fields of food quality and safety, and agricultural machinery.
The agreement was signed on Friday by Deputy Minister of Agriculture and Forestry Dr Phouangparisak Pravongviengkham and Secretary of the Leading Party Group Chinese Academy of Agricultural Sciences (CAAS) China, Prof. Chen Mengshan.
Under the agreement, the two parties will implement the agreed areas of cooperation by joint participation in research projects, establishment of a joint laboratory and arrangement of symposia, workshops, seminars, meetings and conferences of mutual interest.
The parties will cooperate to exchange scientists and experts, scientific-technical information and literature, while other forms of cooperation can be proposed and implemented by mutual written consent from both parties. Both delegations agreed to follow up with respective authorities to report the results of discussions and areas of collaboration in order to obtain support and approval for future cooperation.
They also agreed to have further discussions in detail and have a Memorandum of Understanding for each agreed area of cooperation.
Both delegations agreed the focal point to facilitate communication for cooperation between the ministry and CAAS China.
Cooperation between the ministry and CAAS China began in 2012 and the two parties worked together to use Trichogramma wasps to biologically control key pests in rice in areas of Xayaboury province. The parasitic wasps are tiny parasites that attack the eggs of over 200 species of moths and caterpillars.
The wasps seek out eggs, but do not feed on or harm vegetation. It is a particularly effective biological control agent because it kills its host before a plant can be damaged.
Tests conducted in Laos so far indicate that the tiny wasps are able to control pests that destroy rice.
Regarding agricultural machinery cooperation, the government of China last year supplied 80 machines and insecticide to local authorities but these have proved to be ineffective so far against the onslaught during grasshopper outbreaks in Luang Prabang province. Due to the outbreak, thousands of hectares of crops were sprayed and authorities in three districts plan to continue until they can drive out the grasshoppers.
The army of grasshoppers began to ravage crops in the region in February being first spotted in Viengkham district before quickly spreading to fields in Phonthong and Ngoy districts.
The signing ceremony was attended by Minister of Agriculture and Forestry Dr Lien Thikeo, representatives from CAAS China and other invited guests.
Source: Vientiane Times