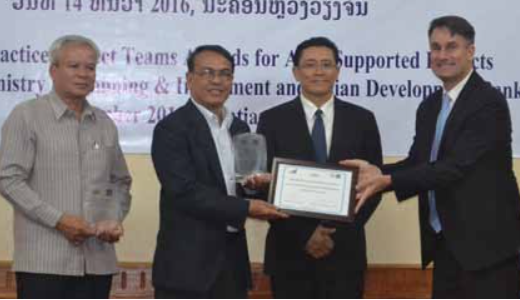 Five outstanding projects supported by the Asian Development Bank (ADB) have received Good Practice Awards for achieving successful development outcomes.
The five outstanding projects include the Secondary Education Sector Development Programme, the Smallholder Development Project, the Small Towns Water Supply, the Sanitation Sector Project, the Northern Rural Infrastructure Development Sector Project and the GMS East-West Economic Corridor Agriculture Infrastructure Project.
The awards handover ceremony took place in Vientiane yesterday. Deputy Minister of Planning and Investment, Dr Kikeo Chanthaboury, and the Officer in-Charge of the ADB in Laos, Mr Steven Schipani, handed the awards to representatives from the five outstanding projects.
Since 2008, the Ministry of Planning and Investment, in collaboration with other government agencies and the ADB, have conducted this annual awards programme, Mr Steven Schipani said.
The programme recognises outstanding project teams and their efforts to ensure that ADB-financed projects achieve their expected outputs and outcomes and positively impact the country's development.
This year, we recognise outstanding projects in two categories. The first award is called Good Practises in Project Implementation. The selection criteria include technical performance, contract awards and disbursement, timely submission of quality audit reports and compliance with safeguard requirements, Mr Steven Schipani added.
The second award is titled Good Practices for Preparing a High Quality Government Project Completion Report. The selection criteria considered the quality of analysis and ratings, timely closing of accounts, presentation of lessons and recommendations for future projects.
Selection of good practise teams followed a rigorous and transparent process. Using these objective criteria, the Ministry of Planning and Investment, Ministry of Finance and the ADB staff jointly evaluated 13 projects in total.
The final selection of teams was a challenging task, as all of the projects are performing well, Mr Steven Schipani noted. He mentioned at their quarterly portfolio review meeting the bank was on track to meet its performance targets for the year. Further, with newly approved ADB financing of US$127 million in 2016, the bank's portfolio has increased to 30 proje cts worth about US$850 million.
Through the efforts of all project teams, I am confident that these resources are being used to achieve positive development outcomes, which are aligned with the government's objectives to promote continued, firm and inclusive economic growth, human resource development and effective environmental protection, he concluded.
Source: Vientiane Times