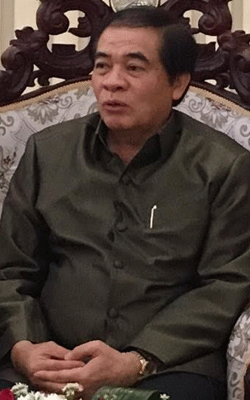 Authorities are still waiting for information on the kind of work to be undertaken by Lao labourers and the number required to help build the railway that will link Vientiane to the Chinese border.
Minister of Labour and Social Welfare, Dr Khampheng Saysompheng, told local media last week that his ministry has not yet been informed about worker numbers and the skills required, despite the fact that construction of the 427-km railway is scheduled to start this month.
He stressed the need for the bodies involved to coordinate with and inform his ministry as soon as possible so that training in the requisite skill sets can be given.
Dr Khampheng said that while the railway has been under discussion for some time, no labour requirements have yet been supplied.
We still don't know what kinds of skills are needed, he told the media while attending a meeting in Vientiane of the cabinet, Vientiane Mayor and provincial governors, which ended last week.
Labour issues have been a topic of debate since a plan to build the US$6 billion railway was proposed several years ago. Given that Lao workers lack skills in this area, some people have voiced concern that the mega project will not create as many jobs for Lao people as hoped. The matter has been discussed but the details remain unclear.
It was previously stated that more than 50,000 workers would be required to build the railway.
Dr Khampheng said he had suggested that the project should create as many jobs as possible for Lao people.
There is a need for further detailed talks on the labour issue, otherwise foreign workers will be hired [for railway construction], he added.
Given the limited timeframe between now and the start of the project, he said Laos was unlikely to be able to train and prepare highly skilled technicians.
Minister of Public Works and Transport, Dr Bounchanh Sinthavong, said previously that the coordinating committee had been preparing details on labour recruitment and promised that the recruitment plan would ensure that local people would be employed.
A senior official at the Lao Federation of Trade Unions previously expressed concern that local workers could suffer in competing for jobs on the project given that Lao workers have no skills in railway construction. The official, who asked not to be named, said there were no training courses in Laos in this field.
It will probably be inevitable that a large number of foreign workers will be hired once construction starts, he said, adding that the number would likely exceed the quantity of foreign workers permitted by law.
The amended Labour Law, which was passed by the National Assembly in December 2013, allows a workplace or enterprise to employ up to 15 percent of the total workforce on a project as manual labourers.
In addition, a workplace can employ up to 25 percent of its workforce as white-collar professionals.
Source: Vientiane Times