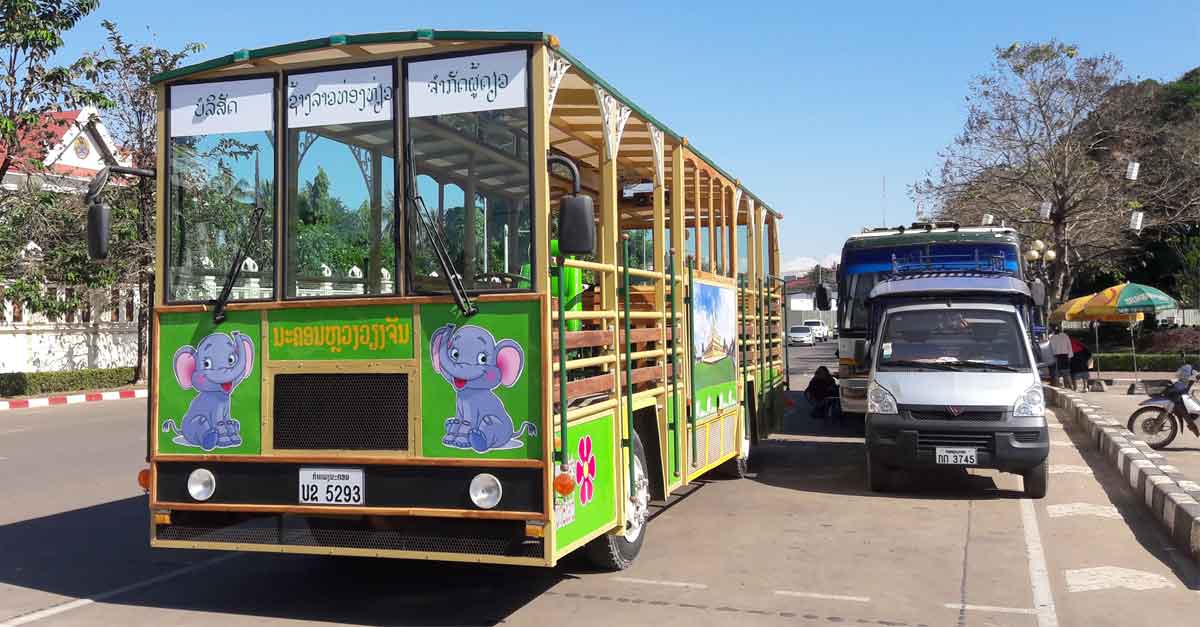 The Hop-on Hop-off Vientiane Sightseeing Bus has caught the attention of Vientiane residents as it makes its rounds through the city.
The hop-on hop-off tourist bus is the brainchild of Mr Vilaysone Louangaphay, operator of Xang Lao Travel. Mr Vilaysone said he wanted to offer this service to tourists in Laos as a new way to experience the city.
The sightseeing bus is an open top bus with two levels of seating affording passengers a view of the city as they drive around. It was fully designed and customized in Laos.
Xang Lao Travel has also brought a 'trolley bus' into service. The trolley bus is a smaller open top vehicle which makes the same rounds as the sightseeing bus.
[ngg_images source="galleries" container_ids="5″ override_thumbnail_settings="1″ thumbnail_width="100″ thumbnail_height="75″ thumbnail_crop="1″ images_per_page="20″ number_of_columns="0″ ajax_pagination="0″ show_all_in_lightbox="0″ use_imagebrowser_effect="0″ show_slideshow_link="0″ slideshow_link_text="[Show slideshow]" template="/home4/laotiantimes/public_html/wp-content/plugins/nextgen-gallery/products/photocrati_nextgen/modules/ngglegacy/view/gallery.php" order_by="sortorder" order_direction="ASC" returns="included" maximum_entity_count="500″ display_type="photocrati-nextgen_basic_thumbnails"]
One trip on the Vientiane Sightseeing Bus runs for approximately two hours. It travels every day, making two rounds per day, from 8:30 – 9:00 in the morning, and 1:30PM to 3:30PM in the afternoon. The trip is currently free of charge as the company is promoting the service and wishes to receive feedback from the public.
The bus travels from Inpeng Temple to Ho Phra Keo Temple, then travels the length of Thadeua Rd to the clock tower at KM8. From there the bus travels toward the US Embassy, turns at T4 Road and travels toward ITECC on its way to the That Luang Stupa. From That Luang the bus makes a stop at Patuxay Park, turns up Samsenthai Rd and passes the Lao Plaza Hotel on its way back to the final destination back at Inpeng Temple.
The sightseeing bus is also available for bridal parades, wedding receptions, or can be reserved for private tours.
More information can be found at the Xang Lao Travel website here.