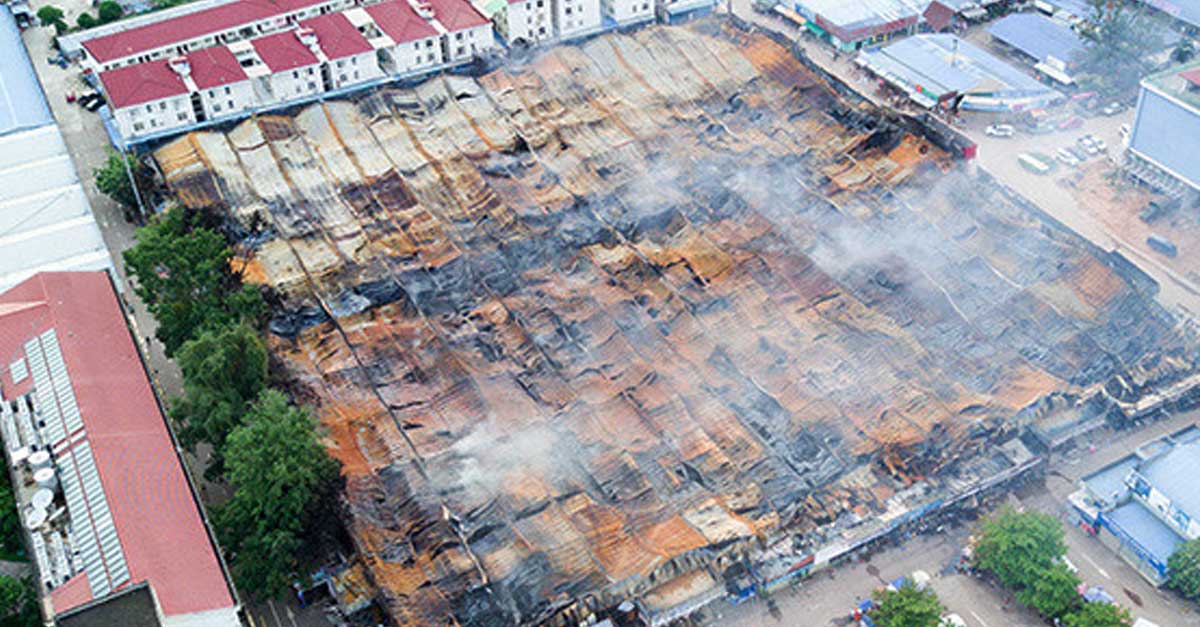 In the aftermath of the Sang Jiang fire, it is clear that the destruction of the Chinese market has been total and indiscriminate. It is not yet confirmed whether anyone has been injured, but sources report that there have been no casualties.
The cause of the fire at Sang Jiang is still unknown.
In recent years, markets in Vientiane Capital have increasingly fallen victim to similar conflagrations, leading many to speculate as the source. Everything from faulty and poorly maintained circuit breakers to unusually hot weather conditions have been cited as incendiary factors. However, much of the population remains skeptical that this is the true story.
[ngg_images source="galleries" container_ids="27″ display_type="photocrati-nextgen_basic_thumbnails" override_thumbnail_settings="1″ thumbnail_width="100″ thumbnail_height="75″ thumbnail_crop="1″ images_per_page="20″ number_of_columns="0″ ajax_pagination="0″ show_all_in_lightbox="0″ use_imagebrowser_effect="0″ show_slideshow_link="0″ slideshow_link_text="[Show slideshow]" template="/home/www/wp-content/plugins/nextgen-gallery/products/photocrati_nextgen/modules/ngglegacy/view/gallery.php" order_by="sortorder" order_direction="ASC" returns="included" maximum_entity_count="500″]
Foul Play?
A number of conspiracy theories suggesting foul play and the involvement of nefarious business interests in the capital have been gaining wider acceptance. While a full scale, impartial investigation is far from being underway, this has not stopped casual observations on social media wondering why there seem to be high rise shopping center style buildings so conveniently and rapidly replacing these burnt down markets. Some observers are of the belief that markets were deliberately burned down to make way for these high rise shopping centers.
In the case of Sang Jiang, a new shopping mall and nine-storey office block next to the original market site (which went up in flames) is already nearly complete.
A full explanation may remain forever elusive. The sad fact of the matter is there are innocent small to medium sized shop owners who have lost much due to these fires and there seems to be no end in sight to the destruction of what some are calling "undeveloped markets."
Photos: courtesy of ABC Lao News
Feature Image copyright and courtesy: Muan.la