The time has come for Laos to send its first crowned Miss Grand Laos to Vietnam to compete for the International title.
In a year of firsts, Laos has not only crowned its first Miss Universe Laos, but in July crowned the first Miss Grand Laos, and is sending her to compete against 80 other countries for the Miss Grand International title.
Ms Chinnaly Norasing, an 18-year old student who graduated from Kiettisack International School this year, is the first contestant from Laos to win this title and will be representing her home country in the world competition, Miss Grand International 2017 hosted in Vietnam on October, 5th.
Ms Norasing has won 1st place in the 7th Lao National Asean Quiz 2016, an English competition aimed to evoke the spirit of healthy competition amongst the ten ASEAN countries through geography, history and economic cooperation.
Themed 'Ending War and Violence', the pageant will commence on October 5th with the final show scheduled to conclude on October 25th.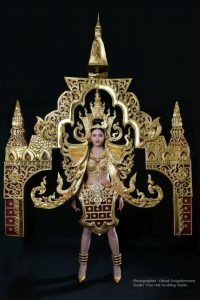 Quang Binh has been selected as the location for the national costume competition, where Miss Norasing will officially debut her national costume for Miss Grand International 2017.
Her national costume was inspired by the famous Pha That Luang, or the Great Golden Stupa, in Vientiane Capital. The design of the costume is a uniquely stunning feature, embodying the spirit of the Lao people and their virtues. The accents and embellishments featured on this costume present Laos' cultures, traditions and identity.
Please follow the Miss Grand International's for broadcasting information.
Photo Courtesy: Miss Grand International FB Page