Thanks to a local delivery company named Foxpress, obtaining 2017's road tax stickers has just gotten easier. For a small fee of only 15,000 KIP, Foxpress will collect up to three of your registered road tax stickers from a BCEL bank branch, and deliver it right to your doorstep.
As previously reported by The Laotian Times, road tax stickers for 2017 are now available for purchase through any BCEL bank branch. Road users who utilize the BCEL One application, can conveniently pay their road tax fees online by selecting the Road Tax icon (to the right of the SmartVAT icon), inputting the vehicle license number, selecting the color of the license plate, and then proceeding to pay. After payment has been confirmed, a unique barcode will be automatically generated. Users are advised to screenshot this barcode and send it to Foxpress. Foxpress staff should deliver customer's road tax stickers within 1-2 working days.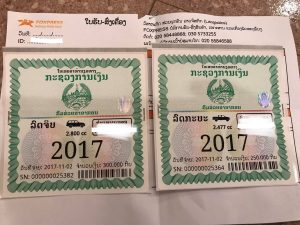 Available on Facebook Messenger, Whatsapp and Line, please contact 02058448868 for additional info on the Foxpress service. Find out more information on the 2017 road tax here.