Laos doesn't have too many pristinely paved roads. While there are a few diamonds in the rough, many of the roads are not built to last and worse, poorly maintained. Lao road contracts are generally won by local construction companies with influential government connections that prioritize personal profits over public satisfaction. Public funding management for road construction is already constrained and inefficient.
Unhappy with the state of public roads, many citizens make their voices heard through the government hotline, most of us take to social media, while others just simply accept the status quo.
But for one group of frustrated villagers of Huahart in Savannakhet, accepting the way things were was not an option. This group banded their labor and savings totalling approximately 77,131,250 million kip (approximately USD 9300) to pave a road stretching 400m long in the district of Xayphouthong. This phenomenal communal effort will bear fruit in the form of a 13cm thick, 5.6m wide cement road. Construction started in mid-November and is slated to be complete by mid-January 2018.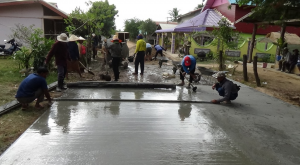 This is not the first time that the denizens of Huahart had pooled together their resources. Not so long ago, they crowdsourced 52 million kip to create a 250m stretch of road (5.10m wide). This method of crowdsourced funding did not strictly mandate village members to contribute but was rather a community campaign driven by voluntarism and the shared desire to see better road conditions for all. Peasants and businessmen alike gave within their means to realize this common goal.
Source: Laos Update