Zhao Wei, the Chinese national who operates the Kings Romans Casino in Laos, has rejected the US Treasury Department's claims that his organization is involved in illegal activities.
Zhao issued a statement in writing and by video on Saturday in both Chinese and Lao languages, calling the US stipulation "a unilateral, extraterritorial, unreasonable and hegemonic act of ulterior motives and malicious rumor-mongering."
"This action has severely mislead international public opinion and created unnecessary worries among some investors and tourists," the statement went on.
"As an investor, all of my own activities and those of my staff and companies in all countries and areas are legal, ordinary business operations supervised by the legal authorities of the relevant countries that have not harmed the interests of any country or individual," said Zhao.
The response by Zhao comes after a designation by the US Treasury Department on January 30 declaring the Zhao Wei network a "transnational criminal organization." The department then imposed sanctions on Zhao himself, alongside three of his partners and companies in Laos, Thailand, and Hong Kong.
"The Zhao Wei crime network engages in an array of horrendous illicit activities, including human trafficking and prostitution, drug trafficking, and wildlife trafficking," said Sigal Mandelker, Treasury Under Secretary for Terrorism and Financial Intelligence when the sanctions were imposed.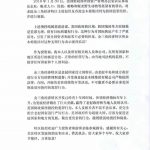 Source: Tholakhong News Agency