The Laos-China Railway project rushes forward as residents get ready for the tremendous changes this new connectivity will bring to their homes. People residing within the parameters of the railway are certain that their livelihoods will be affected.
The construction of the US$6 billion railway, which will run from northern Laos to Vientiane, is on schedule for completion by 2021. This is the first overseas rail route linking Laos to China's network. Currently, the only railroad in Laos is a 3.5 km extension of Thailand's state railway network.
The Boten-Mohan border (between Laos and China) is the starting point of the 409-km Lao section of the Laos-China Railway ending in Vientiane. When completed, the journey from Boten border point in Luang Namtha to the capital city will be reduced from around three days by road to less than three hours by train.
Upon completion, the Railway is expected to cause an increase in the flow of not only goods but also people between the two countries. For example, more Lao parents will consider sending their children to study in China. In 2016, there were over 9,900 Lao students studying in China. In that year, Laos had the most number of students in the world studying in China.
Six Chinese companies are constructing the railway, ensuring the application and use of Chinese standards, equipment and technology. The Lao section of the railway will run south toward the capital through the provinces of Luang Namtha, Oudomxay, Luang Prabang and Vientiane.
A 23 year old Lao translator, Visay Sayavong said that he works with Construction Railway Company No. 5 of China in Luang Namtha. There are three villages located within the vicinity of the construction site: Boten, Tinsan and Nateuy. Since construction began, many people have been employed in the construction companies allowing people to generate more money.
"It's helping to create work for local citizens in Nateuy village in Luang Namtha province and other villages nearby," he said.
One village indicated that their village had found it hard to sell their products but since construction began, the market has expanded and the villagers are now able to sell food to the workers working on the project.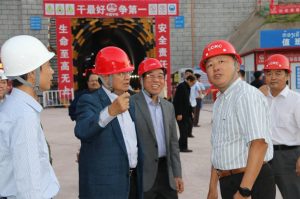 Nowadays, buying vegetables and other foods is very convenient. Some food and vegetables imported from China are also sold in the market. Now, the market has been upgraded to include a multi-purpose room where people can sell goods providing more opportunities for development.
Before the railway construction project, the road to the village was bumpy and inconvenient. But now, the Chinese railway company has built good roads leading up to the village.
China will fund and own 70 percent of the railway, while Laos will take the remaining 30 percent. A 9.68-kilometre railway tunnel will connect both sides of the border with 7.17 km in China and 2.51 km in Laos. When active, the Vientiane terminus will link to the railway network of Thailand that stretches to Bangkok which is connected to Kuala Lumpur in Malaysia and eventually to Singapore. Passenger trains will run at 160 km per hour in mountainous areas and up to 200 km/h on the plains, while freight trains will run at 120 km/h.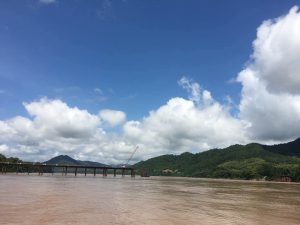 When completed, it will be a crucial link for passenger and freight trains, connecting the rail networks of both countries.
Construction of the railway project is 20.3 percent complete as of December 2017 one year after construction began, according to Lao authorities.
Laos will also be able to receive benefits faster in the area of socio-economic development because the train from Laos will run to China and then from there can link to Europe. So far, more than 7,000 freight train trips have been made between China and Europe.
China's top economic planner said on Friday that 86 countries and international organisations have signed 100 cooperation agreements with China under the Belt and Road Initiative.
Source: Vientiane Times