The government of Thailand has promised support for Lao migrant workers living in the country, and will offer assistance to Lao workers who want to return home to Laos.
The Thai government has said it will upgrade the nationality status of Lao workers in Thailand.
The Thai Minister of Labor, Mr Adul Sangsingkeo, was in Vientiane on Monday to attend a bilateral meeting on labor issues. He said that Thailand would increase assistance offered to Lao workers.
"The two ministries will continue to solve labor-related issues to ensure safe labor migration with workers accessing permanent employment and entitled to sound and just welfare treatment in Thailand," said Mr Khampheng Xaysompheng, Lao Minister for Labor and Social Welfare.
There are currently about 71,000 Lao workers in Thailand holding pink labor cards, which are the temporary identity cards issued by the Thai government.
Under the proposed plan, Thai authorities will continue to register foreign workers, issuing pink identity cards from March to June this year.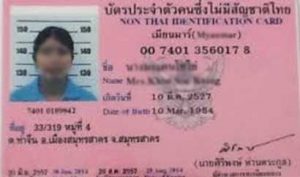 "We would like to thank the Thai government for responding to the request of the Lao goverment regarding this matter," said Mr Khampheng.
The Lao government has been assisting illegal migrant workers to return home to Laos and aquire a passport so they may return to Thailand and be legally employed.
It is estimated that there are 71,000 migrant workers from Laos working in Thailand, of which some 25,000 are unregistered and therefore not protected by law.
Since August last year, around 24,680 Lao nationals registered and upgraded their status.
Source: KPL
Photo: Jack Kurtz