On the 2nd of March, the Ministry of Commerce and Industry (MOIC) together with the Asian Development Bank (ADB) organized an event in Paksé, Champassack to spread the word on how to use the online e-commerce platform, plaosme.com. Industry and Commerce Vice Minister Somchit Inthamith and ADB Laos Country Director Yasushi Negishi were present for the event as the website was showcased in front of various SME owners in the four southern provinces.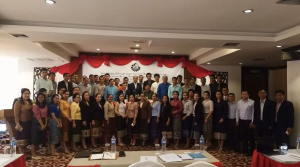 "The ADB and the MOIC, in our efforts to promote small and medium sized enterprises under the private sector and SME development project, launched the website plaosme.com in August 2017, which is an e-commerce platform for all SMEs to access the domestic and international markets – ASEAN markets, in particular as well as ASEAN partner countries," says Negishi.
The website currently boasts 118 companies that have registered, bringing to the platform 413 products including handicrafts, rice, coffee, tea, furniture and jewelry. 72 companies of the total registered number are female-owned and operated.