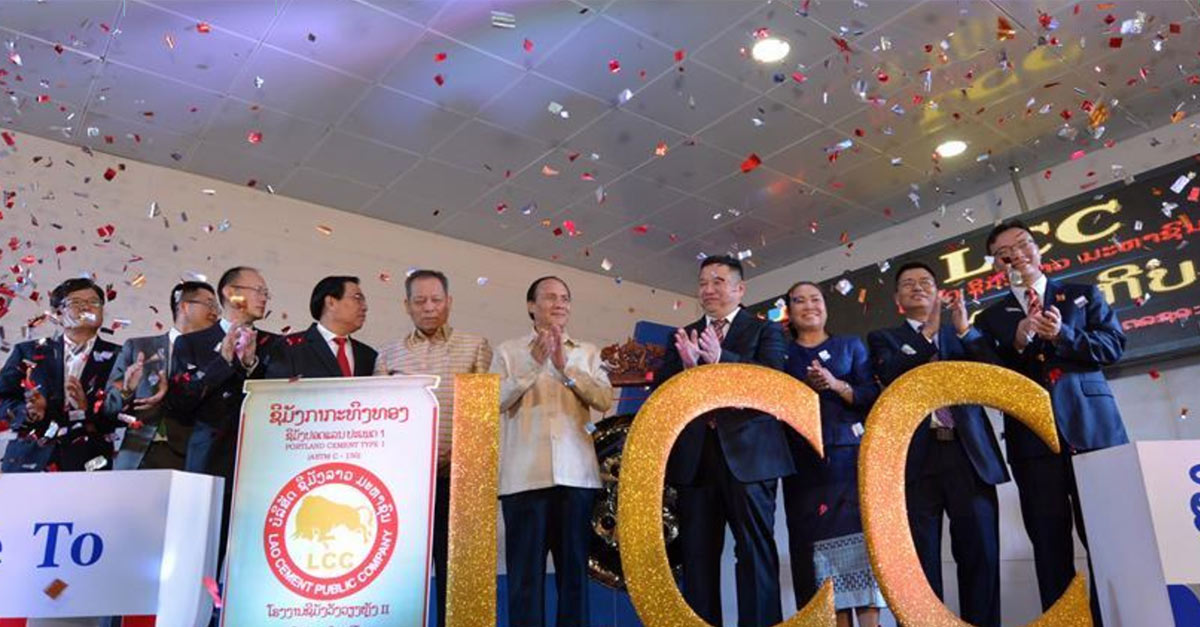 Lao Cement Public Company became the seventh company to be listed on the Lao Securities Exchange, under the financial advisement of Lao-China Securities Company, and with the former's shares being traded at 2,500 kip per share.
On the 2nd of March, the newly listed cement company held a ceremony officially inaugurating the trading of its shares at the Lao Securities Exchange building in the presences of Saysamone Chanthachack, Director General of the Lao Securities Commission Office, Vankham Voravong, Director of the Lao Securities Exchange, Liu Wei, Chairman of Lao Cement Public Company, and Khamkeo Visisombat, Chairman of Lao Cement Public Company and other company officials.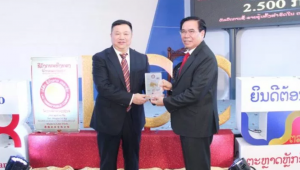 "Under the guidance of the Lao Securities Commission Office and the Lao Securities Exchange, we are glad to have fulfilled all of the conditions and requirements to be listed on the stock market. Our stocks began to be publically traded on the 9th of February. The IPO was able to help raise USD $3.47 million which we will invest in production upgrades," says Liu.
Lao Cement's IPO was Lao-China Securities first financial advisement project of the kind and also the first time it has underwritten shares. It remains confident that the capital raised to be used for production capacity improvements will bear fruit and increase the bottom line for the company in turn, its investors, both institutional and public.
Lao Cement Public Company (LCC) is a preferred technological and economic cooperation project between Lao and Chinese Governments using confessional loans from China to Laos. The company is jointly invested by China Yunnan Corporation for International Techno-Economic Cooperation (CYC) and Lao State Agriculture Industry Development Enterprise Import-Export & General Services, and produces sells cement products in the domestic and overseas markets.
There are currently 7 listed companies on the Lao stock market: Banque Pour Le Commerce Exterieur Lao (BCEL), EDL Generation (EDL-Gen), Lao World (LWPC), Petroleum Trading Lao (PTL), Souvanny Home Center (SVN), Phousi Construction and Development (PCD), and Lao Cement (LCC).