The new modern commercial complex known as Thongkhankham Market in Vientiane has officially opened to the public since it had begun construction in 2015.
The opening ceremony was graced by the presence of Vientiane Mayor Dr Sinlavong Khoutphaythoune and the Chairman of Lao World Public Company, Thatnakhone Thammavong.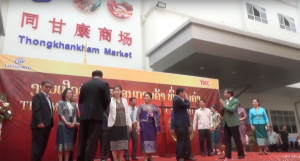 Thongkhankham Market consists of a seven-story building with a total area of 40,992 square meters, four four-story commercial buildings with a total area of 3,456 square meters, and a market building with a total area of 1,989 square meters, said the Company's Deputy Director, Sibountham Sibounmy.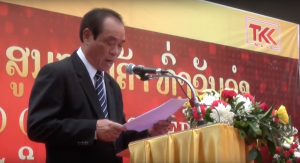 The new complex was built to replace an old wet market where vegetables, fruit, meat, fish and items for religious ceremonies were sold. The new complex cost more than 105 billion kip (approx. USD $12.5 million) and the project was implemented under a 70-year build-operate-transfer (BOT) concession that will expire in 2084.
The past few years have seen a historic rise in the growth of new shopping centers in the capital city as the foreign investment pours into the economy – Vientiane Center, Sikhay Plaza, Talat Sao Shopping Mall, ITECC Mall, K-Plaza and That Luang Square. And several more including The World Trade Center, Lao Chinese market, Sanjiang Shopping Mall and That Luang Plaza are currently underway and are expected to open very soon.
The Lao World Public Company also owns the ITECC Mall, which was opened in 2015. The seven-story mall has a two-story underground facility comprising a supermarket, a duty free shop, gold and silver jewellery stores, fashion clothing stores, shops for household and electrical appliances, a sports store, fitness center, convention hall, business and entertainment venues, health and beauty centers, financial services, and restaurants. Moreover, the ground floor parking area can accommodate approximately 3,000 cars.
The company also owns the Savan ITECC Mall in Savannakhet. The three-story building has a total area of 13,050 square meters. It includes a large hall for exhibitions, conferences, weddings, parties, conventions and seminars.
Source: Vientiane Times & Lao Economic Daily