A celebratory procession along the major avenues of the capital city of Laos was organized to celebrate the recognition of Lao khaen music as UNESCO World Intangible Cultural Heritage.
Taking part in the celebration were Deputy Prime Minister Sonexay Siphandone, Minister of Information, Culture and Tourism Bosengkham Vongdara, representatives of relevant state bodies and residents of the capital.
The official khaen procession began at Jao Fagnum Park, and proceeded to the Presidential Palace, then Patuxay Monument before making a quick stop for a wreath-laying ceremony at the Tomb of the Unknown Soldiers. parade continued its way along Kaysone Phomvihane Avenue. Capital residents stood on the roadsides showering the parade with prideful cheers and support.
https://www.facebook.com/tieng.davanh/videos/1780732071987554/
The procession then made its way to Kaysone Phomvihane Memorial where there a wreath was also placed and Khaen music showcased. The parade then headed to the National Cultural Hall. The history of Khaen was read aloud and a series of Khaen shows performed at the hall in the evening of the same day.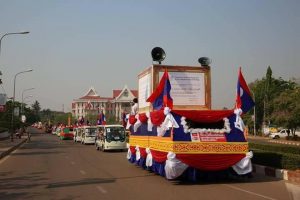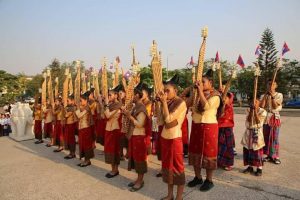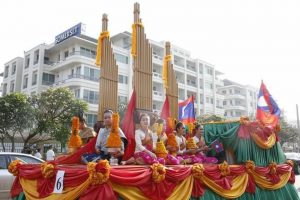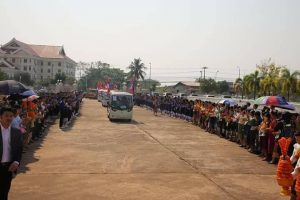 Khaen music was inscribed as the world intangible cultural heritage of UNESCO on Dec 2017 by the UNESCO Intergovernmental Committee for the Safeguarding of Intangible Cultural Heritage.
The khaen music of the Lao people is played with a mouth organ that resembles panpipes but made with bamboo tubes of varying lengths, each with a metal reed, according to UNESCO.
The player blows into the instrument through an air chamber and the sound produced depends on the size of the tube.
Khaen music is popular in all regions of Laos due to its harmonic richness. It is usually an incremental part of village festivals and it is customary for people listening to it to become active participants in the songs and dances, rather than merely spectators.
Khaen music is an integral part of Lao life that promotes family and social cohesion. Thanks to the use of bamboo, the practice is also linked to natural agriculture and healthy lifestyles. Families play an important role in transmitting the art and khaen player associations exist in many local communities where young people can learn the art.
To maintain the practice in spite of lifestyle changes, several local communities, associations and groups have commenced various initiatives to consolidate and promote it through formal and non-formal education.
In 2005, the Association of Khaen Arts was established and various festivals are organized to promote and enhance the art.
Source: KPL
Photo Credit: Support Prime Minister Thongloun Facebook Page