Throughout Laos' economic expansion history, a number of initiatives have been launched to improve the investment climate in the country. One of those successful initiatives is the Special/Specific Economic Zone or SEZ.
Since the first was set up in 2002, there are now 12 active special and specific economic zones nationwide. About 377 companies from Laos and overseas have thus far invested in the zones which cover an area of 19,612 hectares with a total registered capital of US$8 billion, of which US$1.8 billion has already been spent, according to a government report.
SEZs have generated revenues of over US$20 million for the government and created 20,000 jobs of which more than 9,000 have been jobs for Lao people.
In 2017 alone, some 71 companies invested in the zones (an increase of 30 companies when compared to 2016), with a registered capital of over US$92 million. Of the total 71 companies, 58 firms were foreign and have invested in services (48%), trading (37%) and the industrial sector (15%).
The largest number of firms investing in the zones are from China (38 companies), followed by those from Laos (13 firms), Thailand (6 firms), Japan (5 firms) and Malaysia (3 firms). Over the past few years, the government has restructured the management of SEZs and improved the capacity of its human resources to better facilitate foreign investment in Laos. The government has attached great importance to the development of SEZs, aiming to attract investment from the private sector in Laos and overseas and generate more domestic jobs and boost socio-economic development.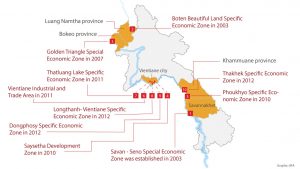 In addition, the government is committed to attracting more quality investment to the zones in various forms, with efforts being centered on investment promotion for the SEZs.
Previously, the management authorities of SEZs also worked with Lao embassies in foreign countries, particularly in China, Japan and many countries in Europe, to help attract investment.
By investing in SEZs, investors benefit from a tax break policy which will contribute to lowering their production costs for export.
Apart from its abundant natural resources, geographic location in the middle of the region and relatively low cost of labor, Laos enjoys tariff exemptions under the Generalized System of Preferences (GSP) from over 50 countries.
According to the government report, approximately US$2 billion have poured into special and specific economic zones in Laos by private investors over the past 16 years.
Setting up a Business in the SEZs
In order to set up a business in a special or specific economic zone, companies need to apply for a license with the Secretariat to National Committee for Special Economic Zones (NCSEZ). The terms of the investment will depend on the type, size and location of each special and specific economic zone. In general, however, investments on special or specific economic zones cannot exceed 99 years and are reviewed on a case by case basis with the approval of the government.
Investing in a SEZ can be done in two ways: general investment and promotional investment. A general investment allows the developer or investor to invest in all sectors within the SEZ, except those forbidden by the government, such as trading of arms, drugs, poisonous chemicals, etc. Promotional investment, on the other hand, involves industries that are strongly supported within s SEZ and regulated by the SEZ Administrative Committee. These activities include investment in electronic industries, scientific and new technology research, tourism infrastructure, organic products, etc.
The application process for investing is the same for general and promotion investment. Each economic zone is equipped with a One Stop Service Office to facilitate investment applications within the zone. This system allows investors to interact with only one regulatory authority, which in turn acquires the necessary licensing and approvals from various government bodies. Both domestic and foreign investors and legal entities must submit the investment application to the Economic Board of the SEZ in which they wish to invest.
Benefits of Investing in SEZs
Some of the benefits offered by the NCSEZ to developers and investors that wish to start businesses in the special economic zones include tax exemptions for importing equipment and raw materials for infrastructure construction, and reductions in income tax and value added tax (depending on the business type). In addition, foreign investors have been given the right to reside in Laos with their families during the time of the investment, among some other privileges as indicated by the laws and regulations.
Where are the current SEZs in Laos?
Existing SEZs include Savan-Seno Special Economic Zone in Savannakhet (a central point in the East-West Economic Corridor), Golden Triangle Special Economic Zone in Bokeo, Boten Dankham Specific Economic Zone in Luang Namtha, the Vientiane Industrial and Trade Area (VITA Park), Saysettha Development Zone in Vientiane, Phoukhyo Specific Economic Zone in Khammouane, the That Luang Lake Specific Economic Zone in Vientiane, Long Thanh-Vientiane Specific Economic Zone, the Dongphosy Specific Economic Zone, Thakhek Specific Economic Zone and the Pakse-Japan Specific Economic Zone in Champasak.
Sources: Vientiane Times, Investlaos.gov.la, ASEAN Briefing