Who's who in the current government (the 8th administration) led by Prime Minister Thongloun Sisoulith?
Thongloun Sisoulith has arguably made more headlines locally and internationally in both official and unofficial media than any other Prime Minister of Laos. But have you heard of the other leaders of government? The other cabinet ministers? The ones who enforce and implement policies set by prime ministerial power? Let's take a look at their names and pictures:
Thongloun Sisoulith is the Prime Minister (PM), which is the head of the executive branch of government.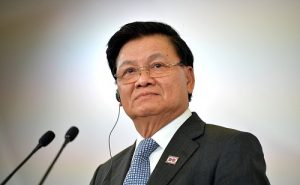 The Prime Minister currently has 3 Deputy Prime Ministers (DPM).

They are Bounthong Chitmany, who also occupies the position of Head of the State Inspection Committee, Sonexay Siphandone and Somdy Duangdy who is also Minister of Finance.
Each Deputy Prime Minister oversees the affairs of several ministries and ministry-equivalent bodies. The following are key ministerial level figures who make up the Government of Laos.

Lieutenant General Chansamone Chanyalath, Minister of National Defense (military)
Major General Somkeo Silavong, Minister of Public Security (police force)
Khammanh Sounvileuth, Minister of the Interior
Chaleun Yiapaoher, Minister to the Prime Minister's Office

Sommath Pholsena, Minister of Natural Resources and Environment
Bosengkham Vongdara, Minister of Information, Culture and Tourism
Lien Thikeo, Minister of Agriculture and Forestry
Saysi Santhivong, Minister of Justice

Khampheng Saysompheng, Minister of Labor and Social Welfare
Khammeung Phongthady, Minister to the President's Office
Khammany Inthilath, Minister of Energy and Mines
Khemmani Pholsena, Minister of Industry and Commerce

Boviengkham Vongdara, Minister of Science and Technology
Saleumxay Kommasith, Minister of Foreign Affairs
Sengdeuan Lachanthaboun, Minister of Education and Sports
Somphao Faisith, Governor of the Bank of Laos (central bank)

Thansamay Kommasith, Minister of Post, Telecom and Communications
Bounchan Sinthavong, Minister of Public Works and Transport
Phet Phomphipak, Minister to the Prime Minister's Office
Souphanh Keomixay, Minister of Planning and Investment

Bounkong Sihavong, Minister of Public Health
Bounkeut Sangsomsack, Minister to the Prime Minister's Office
Alounkeo Kittikhoun, Minister to the Prime Minister's Office
Souvanpheng Bouphanouvong, Minister to the Prime Minister's Office